Disclaimer: I received Luvo Flipped Bowls to review as part of being a BibRave Pro. Learn more about becoming a BibRave Pro (ambassador), and check out BibRave.com to review find and write race reviews!
I am a creature of habit.
Plain and simple.
When it comes to food, I eat very similar things day to day throughout the week. While the "menu" might change week to week, the foods are consistent for the whole week.
While this drives my hubs crazy, I am very much okay with it.
The only time this changes is when I don't have the time to plan out my week of meals…or make my way to the store. For example, last weekend was full of events and we even went out of town Saturday night thru early Monday morning. That left no time to think about what I was going to take to work for snacks and lunches for the week (or at least the first couple days in the week).
Enter Luvo's newest meals to the mix – the Luvo Flipped™ Bowl. Having a small stock of Luvo meals in the freezer gets me through the busiest of weeks without straying to the vending machine… Let's check them out!
Luvo | Flipped Bowls
Luvo makes quick, healthy freezer meals that are packed with delicious ingredients! I cannot say enough great things about the meals that I have tried – which is MOST of them. 
The 3-2-none philosophy that Luvo has built their wholesome meals from is something that I need to adopt into my own life…not just when I eat their meals… 
3 – a meal formed with a balance of protein (1), whole grains (2), and vegetables (3)
2 – less sodium (1) or added sugar (2)
none – no artificial colors, artificial flavors, or artificial sweeteners 
The new Luvo Flipped™ bowls is a great option for anyone wanting to add more plant-based protein sources to their diet; including legumes, whole grains, and vegetables. Each of the  Flipped™  bowls uses chicken meatballs, so they are not vegan, but 1/3 of the protein in the Flipped™  bowls is plant-based. With roughly 16g protein, 1 serving of vegetables, and 30+grams of whole grains, each of the Luvo Flipped™ bowls is a great choice!
My Experience
Upon arrival, I was nervous that the recent heat and a delayed shipment timing would result in spoiled food…but not today! There was still dry ice in the box and everything was still frozen!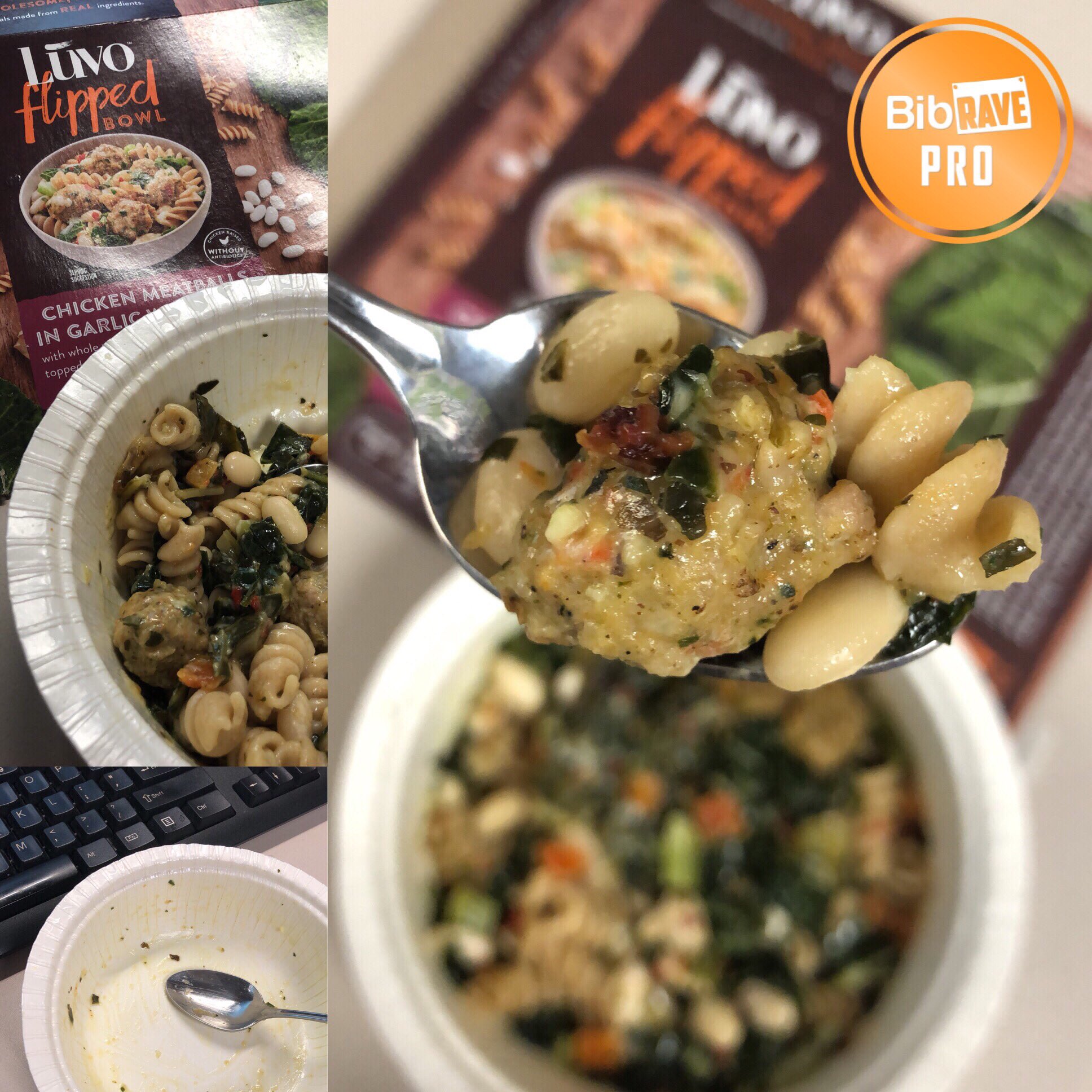 I was able to order 2 of each Luvo Flipped™ bowl and excited to try them all! After trying them, this is my lineup (from best to not the best, but all still pretty great in my book!) :
Chicken Meatballs in Tomato Basil Sauce
Chicken Meatballs in Garlic Wine Sauce
Chicken Meatballs in Stroganoff Sauce
Chicken Meatballs in Creamy Pesto Sauce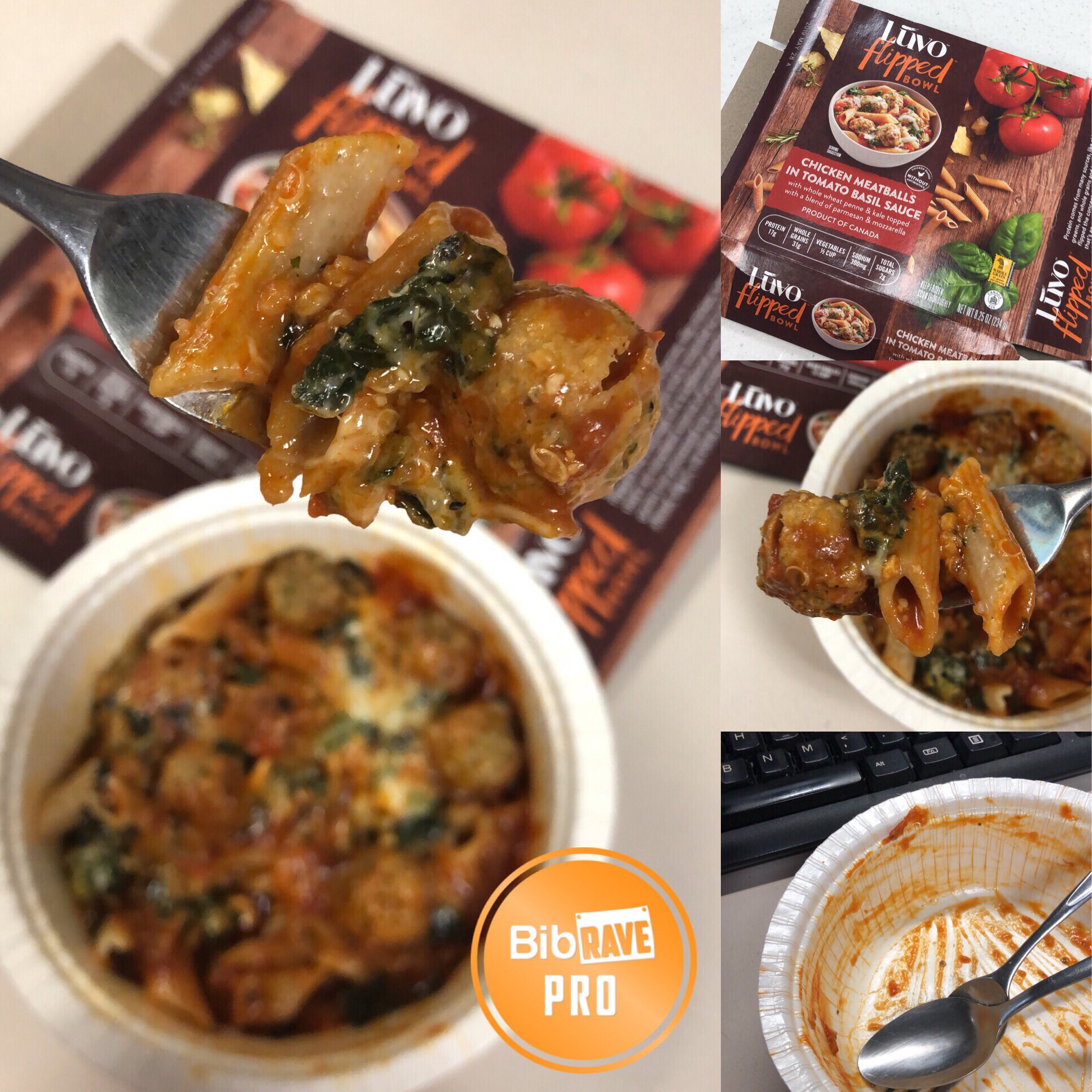 I liked that Luvo took two basics (chicken meatballs and pasta – either rotini or penne) and mixed up 4 very different tasting meals. My favorite is the Chicken Meatballs in Tomato Basil Sauce – probably because it is the closest dish to my favorite traditional pasta and meat sauce.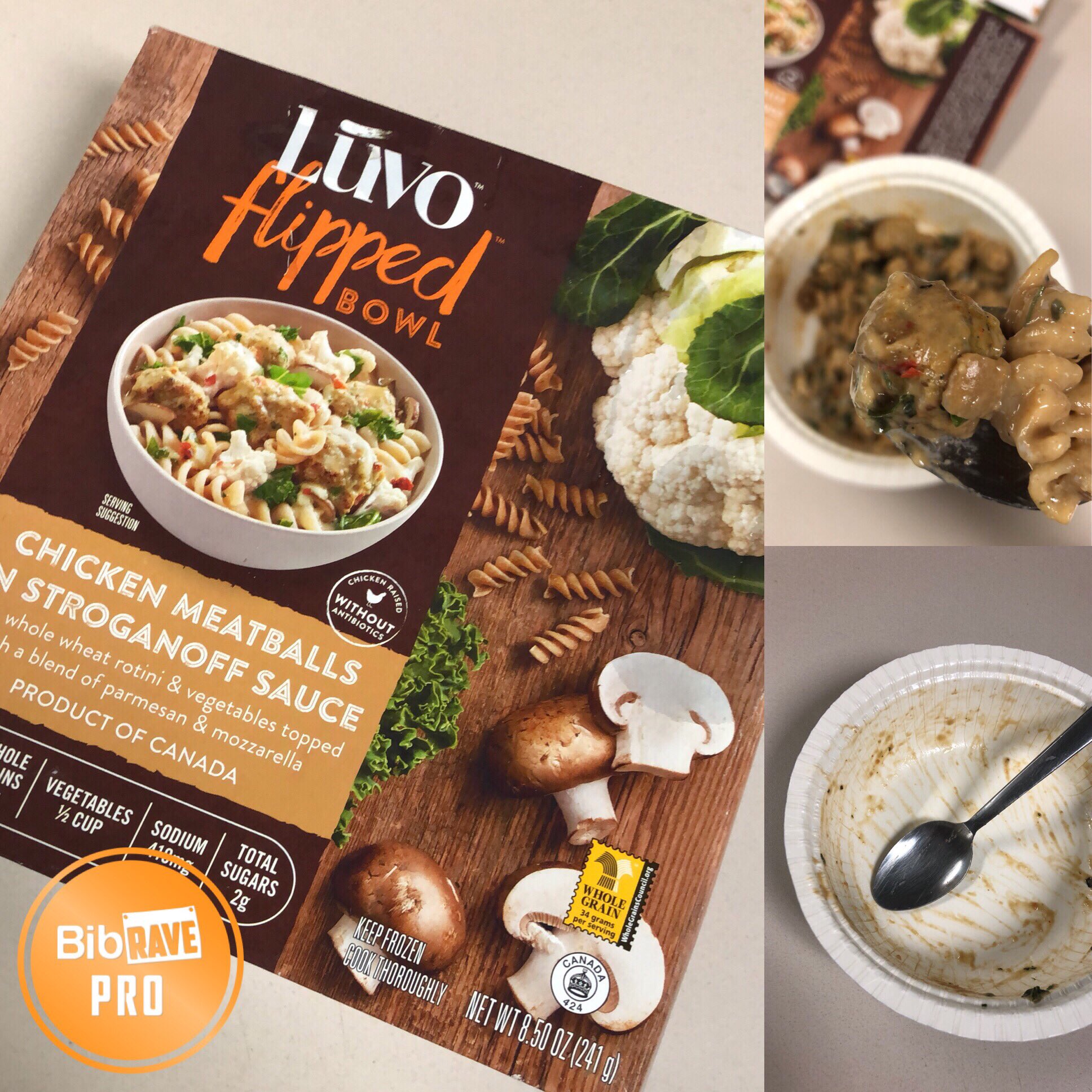 All of the meals were quick to cook and filled me up. I would sometimes add an extra side of cooked broccoli or green beans on my hungrier afternoons, but the meal itself was filling.
To get your own Luvo meals, you can always check with your local grocer. Our stores only carry the traditional bowls and steam pouches. If you are one to order online, you can use code BIBRAVE at checkout when you buy 7 and get 1 free!
Be sure to check out what other BibRave Pro's are saying about Luvo Flipped™ bowls : 
Joe   Corey   Katy   Kevin   Aubrene   Barb B   Kim
Brenda   Amy P   Fallon   Henry   Maria
Mark   Melissa   Dodie   Nacole   Samantha T   Teddy   Vanessa
Check out Luvo on their social handles for fun promotions and to get the scoop on new products : Facebook    Instagram    Pinterest    Twitter
I'd love to hear from you! Leave a comment and start a conversation!
More Ways to connect with Lindsey from LivingLovingRunner :
Facebook   Instagram   Twitter   Pinterest   Bloglovin'