Disclaimer: I received free entry to Hospital Hill races as part of being a BibRave Pro. Learn more about becoming a BibRave Pro (ambassador), and check out BibRave.com to review find and write race reviews!
Hospital Hill Expo & 5K | Race Recap
expo / packet pick up
Once I was done with some family obligations Friday afternoon, my pal Michelle and I headed straight to the Health And Fitness Expo at the Sheridan at Crown Center. We were able to quickly park in the Crown Center parking garage and we just needed to validate our ticket before leaving the expo. 
At the Health and Fitness Expo, there were so many vendors to check out – but first, race bibs and swag!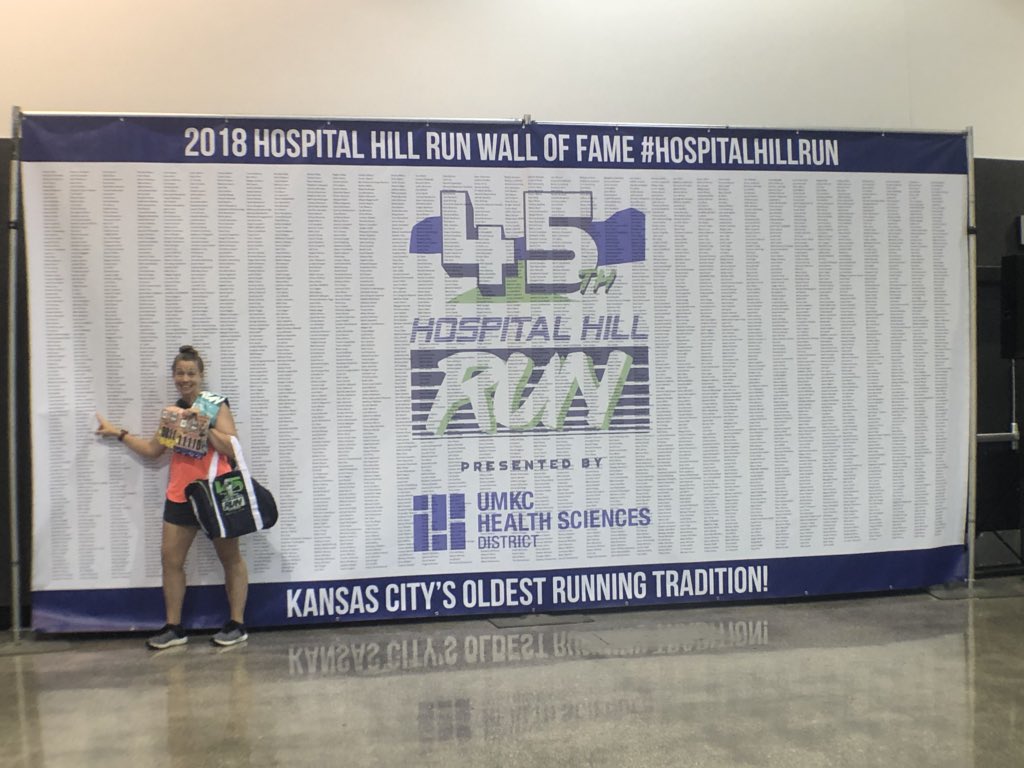 We were able to make quick of picking up our bibs, race swag, and I grabbed my VIP Experience information – so we had tons of time to wander around the expo. There were many vendors from fitness apparel and running companies, to safety gear and misc. home improvement companies. After wandering around the expo for a while, I settled in with some familiar faces at the Smart Pacers booth.
the non-existent 5K (start, course, port-a-potties, aid stations, post race, etc.)
Before our arrival to the Health and Fitness Expo, we were notified of the postponement of the 5K to Saturday morning. As a ReRunner, this meant that I wouldn't technically "earn" the 5K medal Friday and ReRun medal on Saturday.
While this is a major bummer [and the online disgust ensued], I am glad that the RD took the runner's health concerns as a first priority. The possible health concerns of high heat, high dew point, and ozone alert throughout the day out-weighed the finish line photo and medal.
As an additional consideration, the RD stated that ReRunners would be comped a free entry to the 2019 5K – but in fact were sent a 50% off to the ReRun in 2019 (if registered by a specified deadline). In my mind, this goes above and beyond what they are required to for a cancelled event! We all sign waivers that state that if a race is cancelled then we lose the money. In a tight spot, the Hospital Hill RD made a game-day decision. In my opinion, it is great that they are working with the "short changed" runners for next year's event.
swag
One of the fun things about the Hospital Hill Run is that they have fun with the race swag. Through the years, I have gone home with HHR embossed flip-flops, backpack, pajama pants, beach towel, hats, and shirts. Something other than the typical race shirt is so fun!
This year, all participants received a HHR duffle bag! The logos on the bag are bright and vibrant, there is a large side pocket for your shoes [or your dirty clothes], and a large main compartment. Also, since I registered for the Re-Run, I also received a gender-specific tech tee. The shirts are made of a fun honeycomb patterned material and the ladies tee is a light blue while the unisex tee is royal blue. 
Once finishing your race distance of choice, you earn a race specific medal. I will [and you] will have to wait until tomorrow to check those out 😉 
my 5K race
I planned on running with the other rogue 5K runners at the actual 5K start area [Crown Center], at the actual 5K start time [7 pm], on the actual 5K course – but I forgot a change of clothes and I was preoccupied with a long phone call. While I was on the phone by the large windows of the expo area, I saw numerous runners go by on the street – those crazy rogue 5K runners ♥ 
Rather than sweat the details, I ended up completing my 5K Saturday afternoon as a part of my 18 training miles needed for the day – 13 miles at the half marathon that morning and 5 miles at some point later in the day. Nothin' like earning a couple medals in the heat of the day!
overall
The Health and Fitness Expo for the Hospital Hill races is always a great event! So many vendors come from near and far to give you a peek into their company. I was able to try on a few pairs of shoes, purchase a new set of BibBoards (since I forgot mine in the bib of my last race at home), and chat with the Smart Pacers. 
While it was a bummer that the 5K was postponed, I wasn't too too upset that I didn't get to sweat my life away on the streets of KC. While my 5K was on Saturday, I was still able to explore a new path in the usual area I run when staying with my in-laws. Win, win!
Have you ever had a race cancel due to the weather? Too hot? This was a first for me…but probably not the last!
I'd love to hear from you! Leave a comment and start a conversation!
More Ways to connect with Lindsey from LivingLovingRunner :
Facebook   Instagram   Twitter   Pinterest   Bloglovin'
Check out these awesome inspiring linkups this week :
Tuesday's on the Run, Wild Workout Wednesday, Running Coach's Corner