Disclaimer: I received free entry to Hospital Hill races as part of being a BibRave Pro. Learn more about becoming a BibRave Pro (ambassador), and check out BibRave.com to review find and write race reviews!
Hospital Hill Half Marathon | Race Recap
expo / packet pick up
Check out the my post on the Hospital Hill 5K & Expo for this recap ♥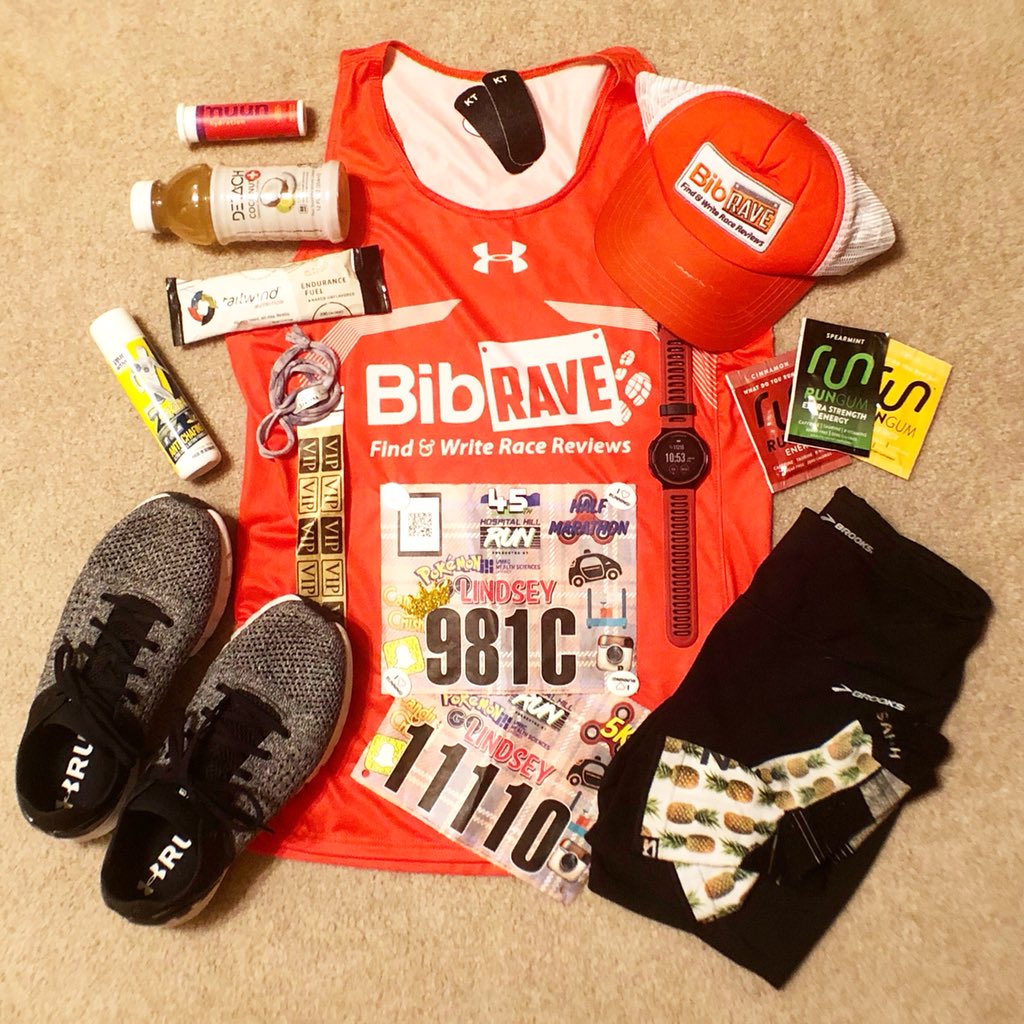 parking
Since my buddy and I had arm bands for the VIP Experience, we were allowed to park in a special parking lot. It's too bad I didn't look up EXACTLY how to get to the parking area before I was nearly to Crown Center…but we made it work. Once we parked in the VIP lot, we made our way to the starting area. The walk wasn't far and it seemed like we would avoid a good chunk of post-race traffic on the northwest side of the start/finish area [since most of the parking is to the south]. 
the start
As we approached the starting area, we were worried about a possible rain delay. Some weather was following us into town with some chances of lightning. I dropped off my things at the VIP tent and head to the start line anyway for a 7am gun time. Not long after leaving the tent, we were redirected back "to safety" and to wait out the storm.
With a rain delay, the actual start was a little messy and closer to 7:30am. I was busy walking and searching for my friends, finding other friends along the way, and all while trying to get to my friend's pace group. So many running friends!! Once the race started, we were on our way!
the course
The Hospital Hill half marathon course is an assortment of rolling hills and a few generous climbs. 
Just remember, what goes up must come down!
The first major climb is around mile 1.5 at Hospital Hill, followed by rolling hills to Rockhill Hill a little past mile 4. In these miles, you venture through city streets and past several parks (Hospital Hill Park, Longfellow Park, Sheila Kemper Dietrich Park, & Robert Gillham Park to name a few). 
Once you get to Rockhill Hill, you are making your way through the University of Missouri Kansas City (UMKC) campus and some residential streets. This area contains my biggest pet-peeve of this course, trash. Saturday is trash or recycling day and this stretch smells like trash…every year. I wish they would move trash day to Friday for just this day so we don't have to smell it… First world probs.
The rolling hills continue to take you south over Cherry Hill to Meyer Boulevard – the southernmost part of the course. There are a couple of rollers along this stretch before you start to head back north to the finish – mind you, you are only halfway there!
Through the city streets, you head to the finish – but not without a constantly rolling course, several parks (Brookside Park, Countryside Park, Mill Creek Park, & Penn Valley Park) the long steady climb of Broadway Hill (mile 10.5-11.5), and the needle of Trinity Hill (mile 12.25-12.5). 
After your legs are blown from climbing hard up the front of Trinity and bombing down the back, you have a nice downhill finish! Hold on tight!
Once you are announced as a finisher, you are awarded with your medal and an ice-cold towel! For today's warm temps, it was a WELCOME relief! I then received my 5K medal and ReRun medal as I worked my way through the finishers chute.
aid stations + port-a-potties
Along the half marathon course, there are 9 aid stations stocked with water, Gatorade, and port-a-potties – that's a lot of aid! I didn't pay much attention to the availability of the potties (mostly because I didn't need them) but I know there were a few at the first aid station…ha! Check out the map above for the location of the aid stations [marked with a drop of water and Gatorade "G"]. 
swag
One of the fun things about the Hospital Hill Run is that they have fun with the race swag. Through the years, I have gone home with HHR embossed flip-flops, backpack, pajama pants, beach towel, hats, and shirts. Something other than the typical race shirt is so fun!
This year, all participants received a HHR duffle bag! The logos on the bag are bright and vibrant, there is a large side pocket for your shoes [or your dirty clothes], and a large main compartment. Since I registered for the Re-Run, I also received a gender-specific tech tee. The shirts are made of a fun honeycomb-patterned material and the ladies tee is a light blue/green while the unisex tee is royal blue. 
Once finishing your race distance of choice, you earn a race specific medal and receive a brightly decorated, ice cold towel! The design of this years medals are based on the theme of celebrating running through the decades. If you participated in the Re-Run, then you also received your 5K medal and Re-Run medal – walking away with 3 medals for the weekend!
Another great piece of "swag" is the FREE digital download of race photos taken throughout the day! I felt like we saw a lot of race photographers throughout the course – which is awesome! Since I had such a good day, I didn't have any "questionable" faces when looking through my images…my RBF can really come out in those later miles on a tough day, ha!
post-race
The post-race party is always fun! You can get more HHR gear, try local wine or beer, take selfies with fun backdrops, and the pancake breakfast is always great! While I spent most of my post-race time in the VIP Experience (see below), I was still able to get some pancakes ♥
my race
I had an awesome day! Even though the morning weather made the day more inviting to try for a PR, I stuck back with my pacer pal Michelle. She was pacing the 2:55 runners and I didn't want to kill my legs for the next week…
Though the tough KC hills, we had fun chatting the miles away! Taking it a little easier on the climbs and taking the downhills a little harder worked well though the day.
One of my favorite areas to run is the Plaza. The fountains always make me happy and I know that there are only a couple miles to the finish!
After the race, we stuck around the VIP tent and chatted with Melissa, another BibRave Pro at the race. We both have some big distance races coming up and it is fun to get to know other Pro's "in the area". 
Once we had stayed our welcome and everything was winding down, we headed home. A great event under our belts and I can't wait until next year!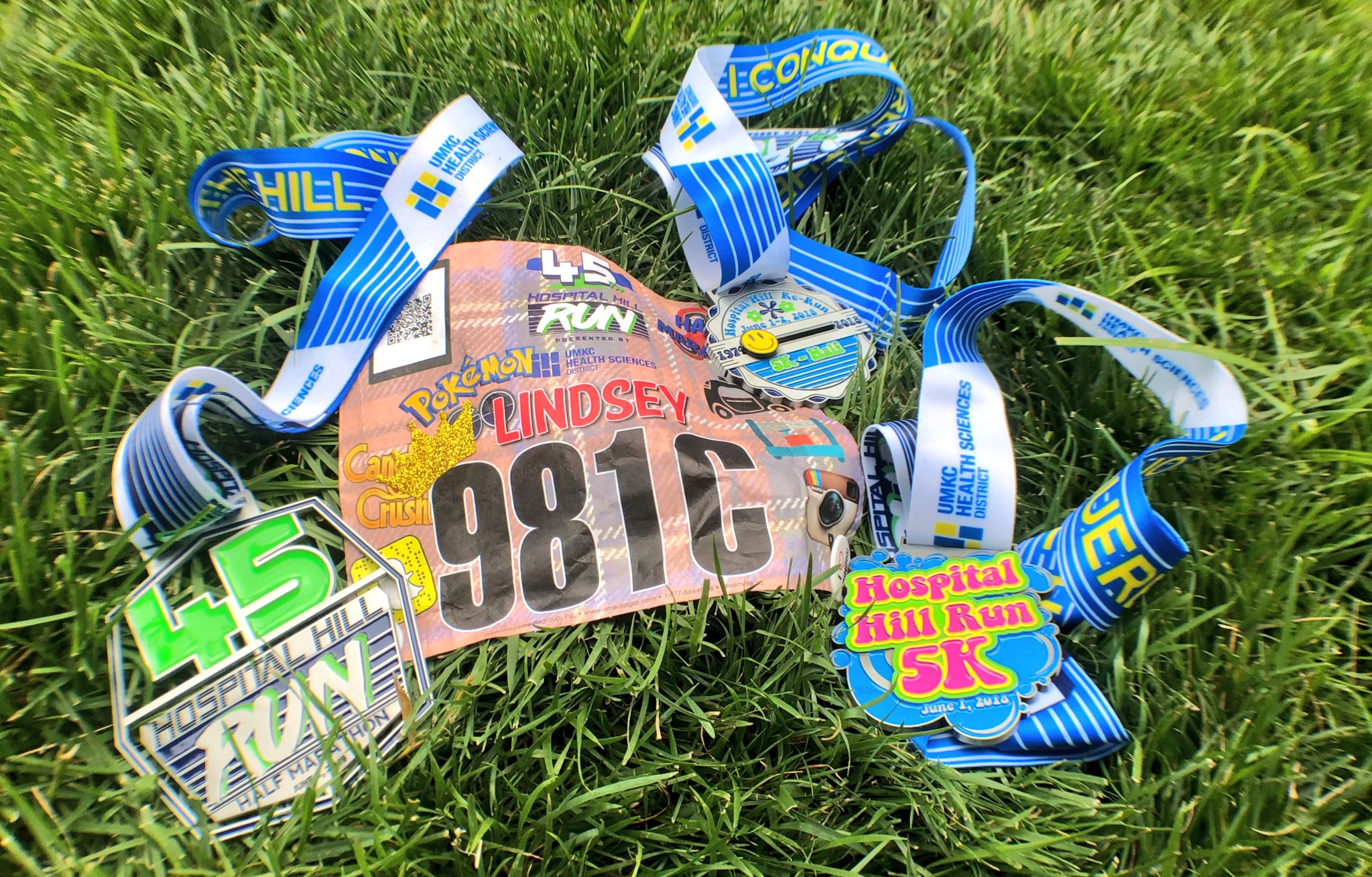 VIP Experience
The VIP Experience is an add-on you can purchase when you register for the race and is a pretty nice perk!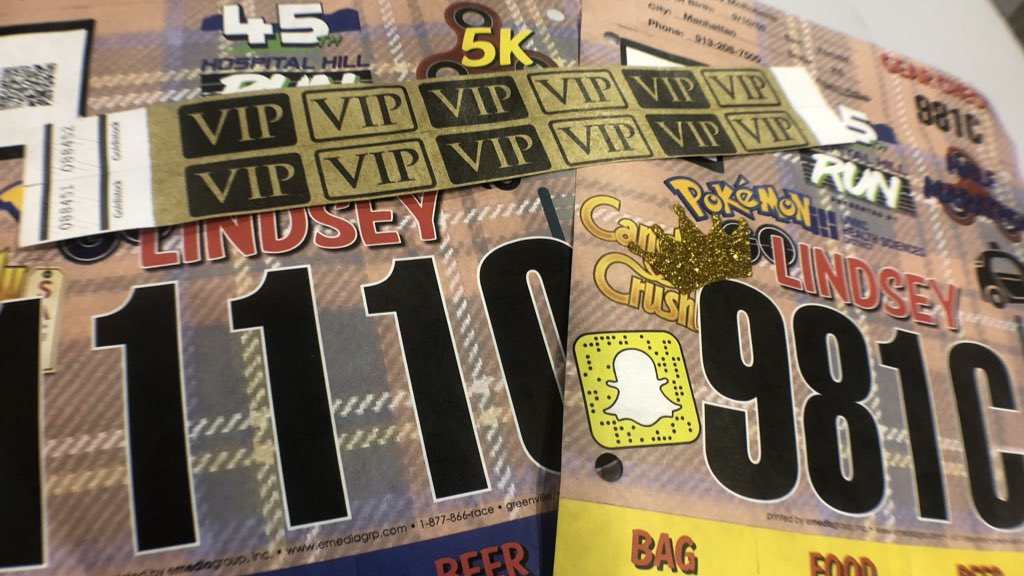 Before the race, there was coffee, danishes, and fruit available to the VIP runners. We also had our own gear check and potties in this area which was great! No lines!
After the race, there was additional food/drinks set out – sandwiches, pinwheel snacks, and mimosas! My buddy and I hung around sipping mimosas and chatting with other runners before venturing out to the post-race area. We also had the option to get a post-race massage and I totally got one! The amazing massage by the team at Hand & Stone Massage was the best perk of the VIP Experience for sure!
overall
The Hospital Hill Run is a weekend of races that is near to my heart! I have enjoyed this event for 5 years now and don't plan on stopping any time soon! The fun swag, the beautiful and fun medals, the challenging course, the free digital photos, the post-race fun — all of it together makes this a go-to event from year to year.
Athlinks
Do you remember a while back when I posted about the great race tracking company Athlinks? Well, I was able to claim my results for the Hospital Hill Half Marathon! They were posting online within hours of the end of the race to claim your results – talk about fast!
Have you registered for a race that cancelled?
Do you have a race that you come back to year after year?
I'd love to hear from you! Leave a comment and start a conversation!
More Ways to connect with Lindsey from LivingLovingRunner :
Facebook   Instagram   Twitter   Pinterest   Bloglovin'
Check out these awesome inspiring linkups this week :
Tuesday's on the Run, Wild Workout Wednesday, Running Coach's Corner