Wow,… Thursday…we meet again!…There is a little to talk about with Amanda and her Thinking Out Loud Thursday's 🙂
But first…
Coffee 🙂
I'm alive!!
I live to tell the tale of…
Kansas Rails-to-Trails Fall Ultra Extravaganza – Prairie Spirit Trail 50K
I AM AN ULTRA RUNNER!!
I thought it was crazy when I ran my first marathon in April and I could call myself a marathoner 🙂
Now, I am an ULTRA MARATHONER!
sweet…
post ultra marathon (50K)
As I have mentioned before, I was not prepared to run a 50K this fall. I had the idea to earlier this year…but no solid plans.
Now that my race has been run, I am so glad I did it!
looking to run again…
Yeah…so I want to run more ultra marathons now!
SAY WHAT?!
How about you just sit down, relax, recovery…get in the right head space…and THEN think about another race!!
Nope.
I got a text from my runner friend (who accomplished the same 50 feat that day…YAY MICHELLE!!) with prospects of the next 50K race 🙂 We are on our own level of crazy…
…and now I am running 🙂
The BEST part of not being completely prepared for the 50K is that I went out slow and steady…yep.
I was the back of the pack for a while…not really all that long, but the first 6 miles for sure! (I think a couple stopped off for a bathroom break and jumped back in behind me…). I didn't pass any runners for the first 6 miles or so…and then a gal and I played tag on who was in the back for another few miles 🙂 After the first manned aide station, I just put in my headphones, started my intervals, and just kept moving!
Since I did start and stay slow, I didn't completely trash my legs! Yes…they were sore for a couple days (…and I am still taking stairs cautiously) but overall not a lot different than my longer training runs.
I'M BACK!!
must eat everything…
I need to SERIOUSLY get my fuel intake under control…
I have had a lot of success with carb cycling, Paleo habits, Whole30, intermittent fasting…etc. in the past.
I work best with a defined list of "can eat" and "stay away from" foods…it allows my OCD nature to take over and there is a lot less to think about!
I am not quite sure what "plan" I will go with over this fall/winter training season…but something NEEDS to change…and for good!!
First thing to go – the Halloween candy!!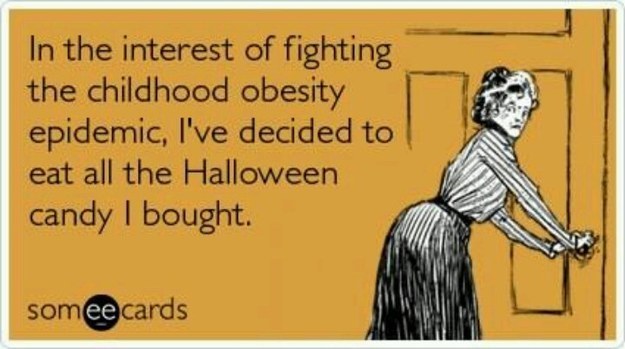 speaking of Halloween…
We won!!

Our Tech Apps group goes all in for Halloween and it shows! We have won one of the categories since our team was established 4 years ago 🙂 (Not shown – Most Scary – 2014)
Best Group – 2016 (Cookie Monster)!!
Best Group – 2015 (Old Folks Home)
Best Group – 2013 (Mad Men)
……
Got to run!!
---
Check out the linkup with Amanda to see what everyone is thinking (out loud) this Thursday!
More Ways to connect with Lindsey from LivingLovingRunner :
Facebook > @livinglovingrunner
Instagram > @livinglovingrunner
Twitter > @livinglovingrun
Pinterest > @livinglovingrun