Disclaimer: I received Sawyer Sunscreen to review as part of being a BibRave Pro. Learn more about becoming a BibRave Pro (ambassador), and check out BibRave.com to review find and write race reviews!
As much as I would love to be an early morning runner to avoid the sun and heat of the day…it just isn't happening these days. Frankly, being a "runner" has been on the back burner to other life changes for the past couple months. But just because I am not running much doesn't mean that I am not outside taking in the sunshine!
I am a fan of sunscreen for the obvious reason — major sun protection against sun damage and signs of premature aging. But I am not a fan of sunscreen due to the greasy nature and "fire in the eyes" feeling when I sweat.
When I was given a chance to try an new-to-me sunscreen as a BibRave Pro, I jumped at the opportunity to give Sawyer Products a try!
Let's dive in!
Sawyer | Stay-Put® SPF 30 Sunscreen
I will not pretend to know anything about how sunscreen works… All I know is that I apply it and I don't complain about being burned the next day. Here is a little info Sawyer provides on their website about their Stay-Put® SPF 30 Sunscreen :
SPF 30
Non-greasy Breathable Matrix Formula
Spreads into all layers of your skin
One application penetrates deep into skin for all-day protection
Water resistant
Sweat proof
Enriched with Aloe Vera and vitamins
Fragrance free
Rated for UVA and UVB protection
My Experience
As an avid sunscreen user and applier (#momlife), I can say that I am very happy with the protection provided by Sawyer Stay-Put® SPF 30 sunscreen. I like the fact that I don't need to set a timer to reapply my sunscreen multiple times a day since the Breathable Matrix Formula penetrates deep into my skin where other sunblocks don't go. Simply said, it isn't going to just wash off when I sweat.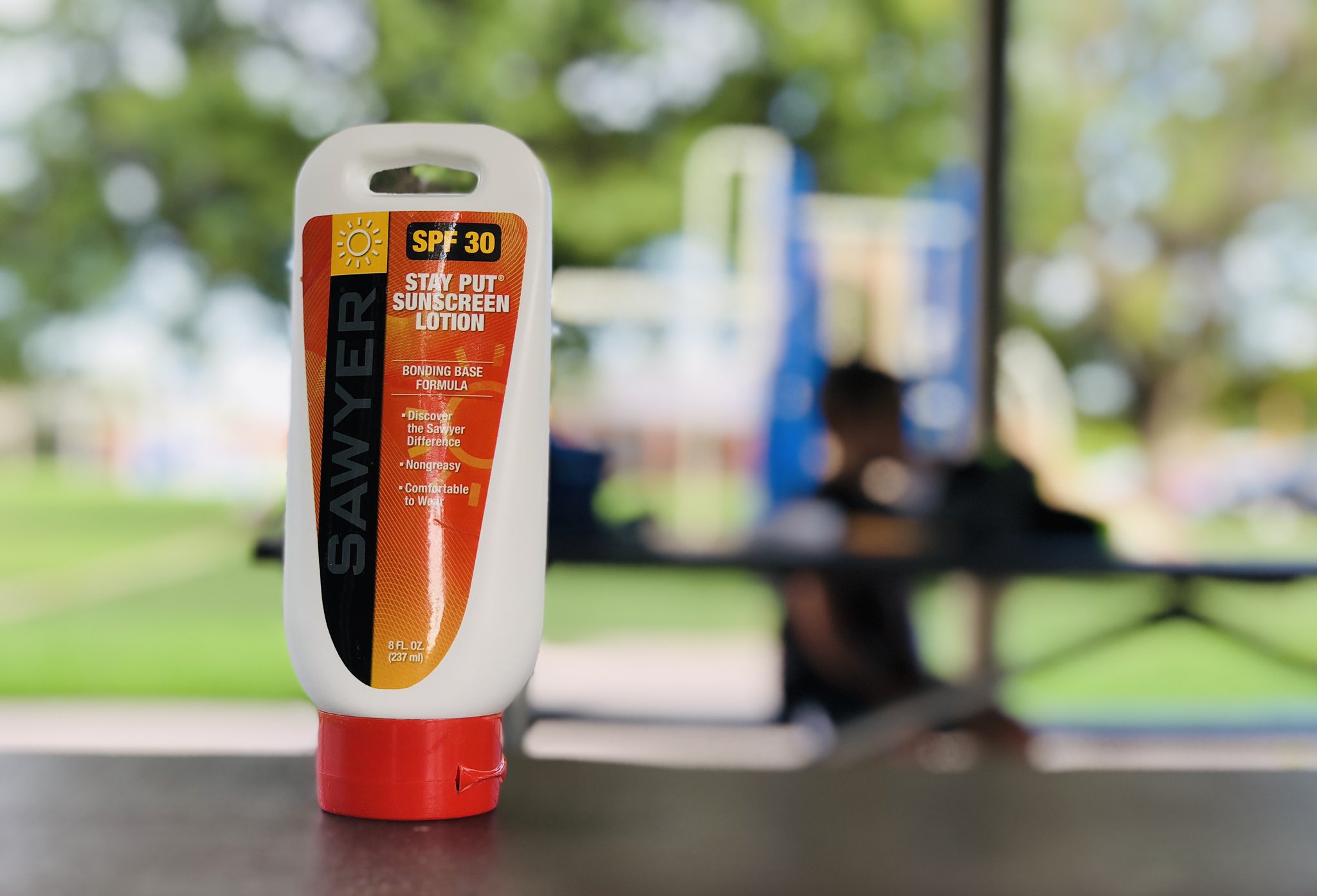 In fact, with the lightweight, breathable formula, I find myself applying it almost as a moisturizer in the morning so I don't have to think about applying sunscreen while I am out throughout the day. Sun damage can happen anytime — driving around town, in and out of the store, and even playing at the park on a cloudy day.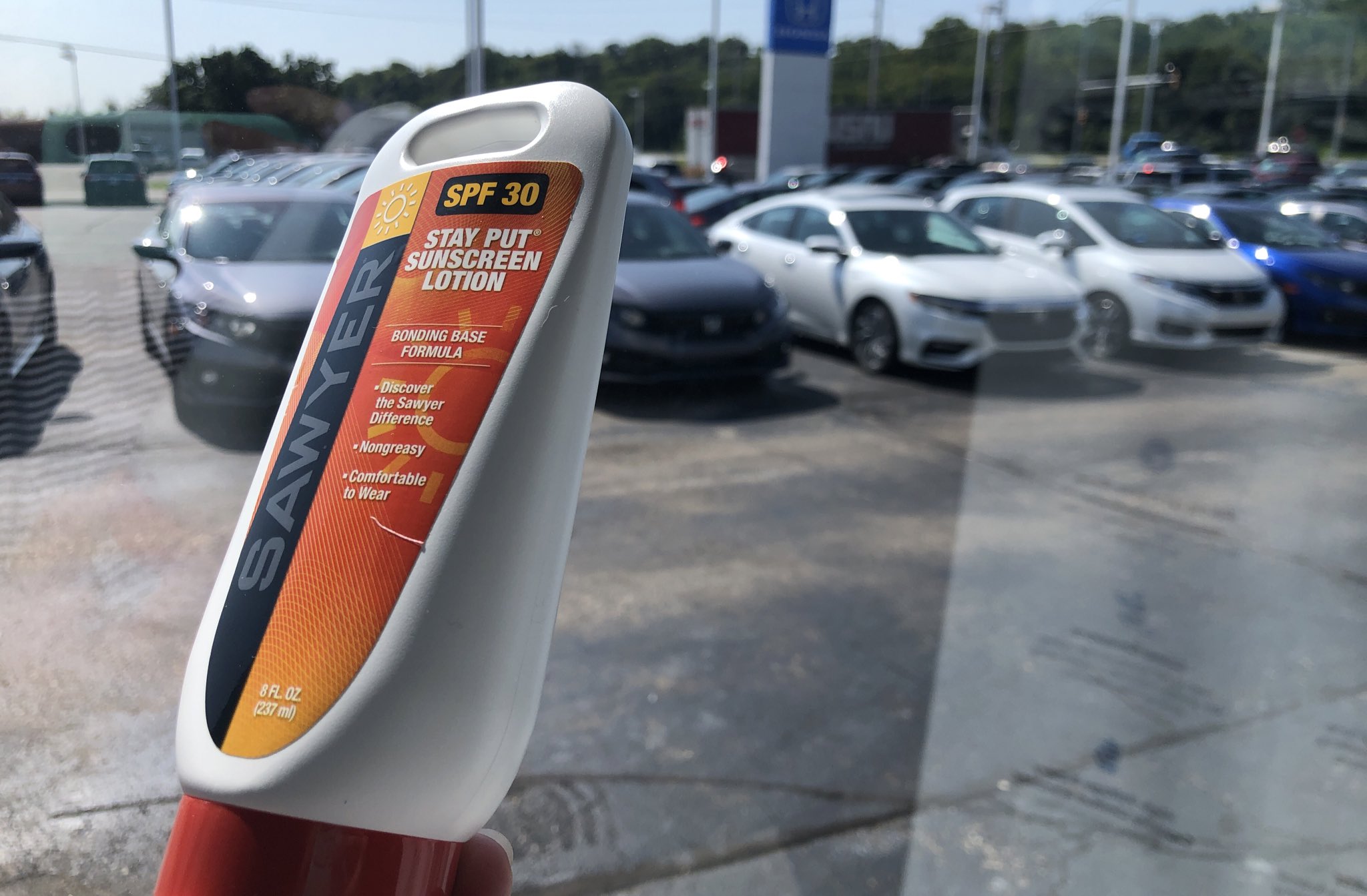 The other bonus of the skin penetrating formula is that you won't have "fire eyes" when your sweat starts really pouring. With other SPFs I have tried, the sunscreen sits on top of my skin and when wet has caused some painful mid-run eye-rubbing sessions… With Sawyer, as long as I apply the Stay-Put® SPF 30 sunscreen with a little time to spare (say maybe 10-15 minutes) before my run, I don't have any of the burning sensation in my eyes. The deeper penetration of the Sawyer Stay-Put® SPF 30 sunscreen allows for sweat and water to pass over my skin without breaking it down.
Also, sun protection isn't needed during just the sun and heat of the summer months. Applying sunscreen year round makes for good habits throughout the year — especially in the summertime when we are typically bearing more skin. Check out this BIG JUG of Sawyer Stay-Put® SPF 30 sunscreen — it will surely keep you protected for many months to come!
BibRave Pros
My fellow BibRave Pro's also went through various features on their review posts as well. Be sure to check them out!
Alastair Amy Andrea Emily Kim P Bill Brenda Deidres Jenn Ken Lacey Mai Nicole Danielle Lissa Samantha Sarah Vanessa Virginia Whitney
Check out Sawyer Products on their social handles for fun promotions and to get the scoop on new products : Twitter YouTube Instagram
I'd love to hear from you! Leave a comment and start a conversation!
More Ways to connect with Lindsey from LivingLovingRunner :
Facebook Instagram Twitter Pinterest Bloglovin'