Wow,… Thursday…we meet again!…There is a little to talk about with Amanda and her Thinking Out Loud Thursday's 🙂
mother nature

Well, Mother Nature has had a sense of humor this past week! She teases me with amazing, cool Fall weather for a couple days…then the curve ball of hot, hot, humid temps… What gives? Really now.
I know fall weather can be unpredictable, but I am just ready for cooler temps for good!
planner
Thanks to Amanda, I ordered my first Erin Condren planner a couple months ago! I loved it – as seen here. I doodled, I planned, I loved it! Then…an upset feline (no names…) decided to potty in my gym bag…where my planner is usually placed. Yep, stinky stinky mess all over my new planner!!
On the plus side, I used a discount code to get a new planner created and it is on its way to my house as I type!! I am glad that the covers are interchangable, because the laminated cover cleaned up fine,…just the pages absorbed all the stink… 😦 I will probably give another reveal of my new planner real soon! In the meantime, you can use my referral link to get $10 off your first order!
birthday girl!
Yay!
This Saturday is my birthday! I have a lot planned…
long birthday run 🙂
First, since I am turning 31 and I have an 18 miler on the schedule, I am just going to go a little farther and make it at least 31km 🙂 Roughly 19.5 miles…not too much more than already planned for!
I have already made the route – let's just see how well I stick to it!..
I will be running south to my parents house (or at least the area of their house – it will MOST LIKELY be too early to stop and say hello…), then running north one of the many linear trails for many miles…then heading back west to my in-laws place. I am excited 🙂
happy pre-wedding celebration weekend, Abby 🙂
Also on Saturday, I have both a bridal shower and bachelorette party for a lovely friend 🙂 I am going to need to keep hydrated after my run so I don't die at the bars that evening…
For real.
I have not had a crazy party night in over a year and a middle school style sleepover in a long, LONG time 🙂 (probably since college…which seems like forever ago anyway)…
special birthday…coffee…
Yasss…I am DEF planning on getting myself a special coffee beverage on my birthday 🙂 I am pretty sure I will get a free drink on my Starbucks rewards card.
What would you drink?? Mine will be a bigg'in for sure 🙂 Probably something non-Paleo as well…doesn't happen often 🙂
morning person, yes
So, I am def a morning person…there is no doubt about it. I would rather do anything and everything in the morning than in the evening…
My biggest morning "to dos" are a morning run, switching out laundry, doing the dishes, and tidying up the living room area. Some days, I have a morning run planned, but the distractions of all the other cleaning gets in the way and I miss my run. This has happened a LOT less in the past few weeks…but it happened a couple times this week 😦
running buddies
The one big thing that gets me out the door (and not doing other cleaning) is the accountability of my running buddies!
Most weekday runs are spent with Angie – we meet up between our houses (between 0.25-0.5 miles for both of us) and run a similar route most days. We will probably start changing the route up a little once the cooler (slightly faster paced) fall runs start… 🙂
O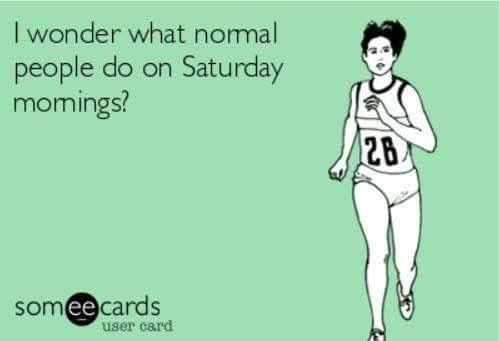 n Saturday's, I really try to make my miles count so I can get out early enough to run to the group run meet-up, run the first loop, and then run home before little man is up for the morning.
It doesn't always work out… Mostly, little man is up and crying waiting for me when I walk in the door…
There has not been a scheduled meet-up that I have not been comfortable running to the start and back…yet! Small-ish town 🙂
---
How do you feel about the changing of  the seasons?
Have your pets ever destroyed something important to you?
Does it help you to have a running buddy for accountability?
Check out the link-up with Amanda to see what everyone is thinking (out loud) this Thursday!