Wow,… Thursday…we meet again!…There is a little to talk about with Amanda and her Thinking Out Loud Thursday's 🙂
But first…
Let's go for a run 🙂
It is blazing hot outside – at all hours of the day – the sun just adds to the BLAZING element… I find running EARLY helps stay out of the sun as much as possible…and that time RIGHT when the sun is coming up is the best part of the day!
what goes up…
…must come down!!
I took a pretty good fall on the trail last weekend… I was left with a couple small chunks out of my knee, a few small scratches, and one big scratch. I think the big one was a rock…a nice pointy rock…but I am not sure where it went!
Here was where I fell – picture taken the next day in the daylight (since it was dark on the trail when I fell). Yeah, I couldn't take the hint and went back out to the same trail the next day…for three more loops…I guess I was asking for trouble…
Beautiful trails
Who wouldn't want to run these trails?!
…the aftermath
Well, I cleaned up my leg and kept medicine on it Saturday and Sunday. Ouch!
On Monday, I went by the clinic to see if I could get some bandages and medicine for it…and the doc didn't like how the big scratch looked.
So I am now on a 3-times a day dose of antibiotics… Lovely!
With a trail running event this weekend, I hope that this thing heals well… It will soon be put through the gauntlet… 
Psycho Psummer
Don't trust a race with the work "psycho" in the name…or frankly, with "summer" in the name either!!
This weekend is my 2nd 50K – pretty much a training run for my 50M in September. Yeah, it is a couple weeks early in the training plan, but it was A) local, B) within a short amount of time of the 50K in my training plan, and C) an organised event. 
I have had some bad luck with getting in my full long runs in the past couple weeks…and I hope that changes this weekend!
oh the heat!
But the persistent heat this week and weekend is going to get me…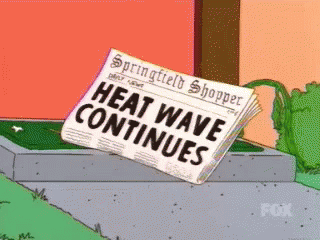 For Saturday, my 50K all day event (because I am slow…), will start in the 80s (bleh…) and top out in the upper 90s (more bleh…) – per current forecast.
While the weather changes on the hour in KS, I am thinking cool, shivering, snowy thoughts for the next few days…
secretly…
…I am very nervous about this weekend!
I have had issues in the past with my kidneys after long, hot runs…but I wasn't as prepared for the heat on those runs. I have learned along the way about keeping cool and it has helped!
But I haven't run long hours in the heat of the day.
With time cut offs.
On hilly, dirt single track…
Yeah, I am nervous…but optimistic! As much as this is a race, it is more a training run! My bigger race is a mere 7 weeks away and it can likely be just as hot and I will be out there even longer! 
While I want to finish the distance, this is a chance to test out a nutrition plan and enjoy the trails…for up to 9 hours (if I make the cut offs)! Yeah…I am a little (or a lot) crazy : )
NEW DEVELOPMENTS 
As I mentioned yesterday, my husband has decided to start running! This is a new, exciting venture that I hope sticks for a little while! I could always use a new running buddy – and then I get to live with him and cry and complain together about running…yeah!
I don't know how long this new venture will last, but I will do whatever I can to help him be successful and feel the joy of running…(of course after the pain of chaffing and muscle cramps)! : ) Love ya babe!
---
Check out the linkup with Amanda to see what everyone is thinking (out loud) this Thursday!
I'd love to hear from you! Leave a comment and start a conversation!
More Ways to connect with Lindsey from LivingLovingRunner :
Facebook > @livinglovingrunner
Instagram > @livinglovingrunner
Twitter > @livinglovingrun
Pinterest > @livinglovingrun
Bloglovin' > @livinglovingrunner