Well, this isn't the first time I have missed a week of posting my workouts…and probably won't be the last!
Here is a double episode of my spring training workouts!
I have some running plans for this spring and then in the fall…but we'll see what all gets accomplished. I am not in complete control at this point – but here is what is on the calendar to this point :
Garmin Half Marathon (4/13/19) – Only a few short weeks away! I am looking forward to running a race for fun and see how my body is feeling with the miles.
Bill Snyder Highway Half (5/25/19) – pace the 3:00 finishers (depending on how Garmin goes, I might just be sweeping the half rather than pacing for time…we shall see!)
Hospital Hill (6/1/19) – I will be running the 10K as my last "race" before the new little one comes the following month! Come and run with me, any distance really, and save with the discount code BIBRAVE19 – good for 10% off!
Kansas City Marathon (10/19/19) – Planning your fall race schedule yet? I have BIG plans to be able to move and move well by the end of October…so why not sign up for my first post-baby race?! Come and rrun with me, any distance really, and save with the discount code BIBRAVE2019KCM – good for 15% off!
While ALL of these plans are in my calendar, I have high hopes that this pregnancy will allow me to run to my heart (and legs) content! Let's see how these weeks went!
weekly workouts : week 8
Spring has finally sprung, and this week is proof! We had some amazing temps, some rainy days, and lots of sunshine! I am so excited to get back outside on a more regular basis — too bad my body still doesn't want to function before 7am… So afternoon miles it is!
Monday
Scheduled : 22 minute interval run
Actual : 48 minute lunch run (3min run, 1min walk — 3.5 miles) — It was a beautiful day for a lunch run!
While I have a working "schedule" for training, I haven't REALLY used it much. It helps to know that I SHOULD be doing specific workouts, but I just don't have it in me to push for true intervals or steady pace runs. I have been running 3 minutes and walking 1 minute since I found out I was pregnant, and it is really working for me! My HR comes up some in the running segments and then back down during the "rest"…all in all, I am happy with the effort and I am still keeping some of my fitness. Win, win.
Tuesday
Scheduled : "cross training"
Actual : OFF — A rainy day just made me not want to get outside…and I am okay with that!
Wednesday
Scheduled : 25 minute run
Actual : 3.5 miles
With the rain yesterday, I was hesitant to get on the trails. But I was pleasantly surprised that the warmer temps dried most of the mush and there were just a couple puddles to run around. I am just excited to see when the Corps will fix the trail…levee work in soggy conditions makes for a MESSED UP trail.
Thursday
Scheduled : yoga or "cross training"
Actual : 3.5 miles
What an AMAZING day for a run! I was a little hesitant to run the Birding Trail because of the rain we had a couple days ago, but with the warm weather we have been having, it was all dry! First dirt miles of the year!
Friday
Scheduled : 10K run
Actual : 2.75 miles
I ended up getting off work a little early today and rather than just heading home for a nap, I headed to the park to get in a couple miles. The hubs just finished up a ride and met me over there…while it was fun to have someone to "run with", he was having an interesting time staying on him bike at my snail-slow pace…ha!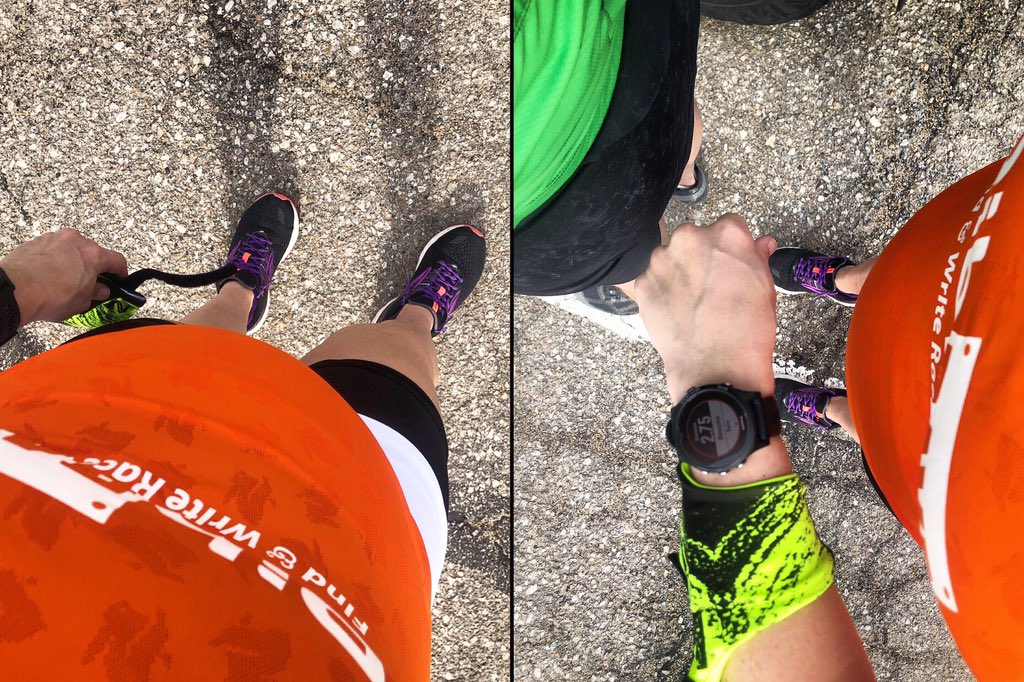 Saturday
Scheduled : 60 minute run
Actual : OFF — Lazy day!
Sunday
Scheduled : "cross training"
Actual : OFF
weekly workouts : week 9
Well, this week shaped up nicely. The temps acted like they wanted to climb, which is a welcome sight…
I look forward to having the energy to get up and get out in the morning…but it just hasn't happened yet. Could be those "late nights" watching GOT with the hubs…but not giving those up just for a morning run just yet! I will deal with the shorter afternoon jaunts as long as I can, ha!
Monday
Scheduled : 45 minute run
Actual : OFF — With a rocky start to the day, I wasn't able to get away for a lunch run and the hubs and I had an impromptu date night after work (so no workout there either).
Tuesday
Scheduled : "rest"
Actual : 4 mile lunch run
A nice day to get out for some trail miles. Honestly, it's more like a mile of road, 1.5 miles of gravel, 0.5 mile of trail, and 1 mile of road…but that little time on the gravel and trail is totally worth it!
Wednesday
Scheduled : 32 minute interval run
Actual : 3 mile morning run
Thursday
Scheduled : "yoga"
Actual : 1 mile run/walk + 3 mile lunch walk
Since the weather is still nice before the 4th winter sets in later today, I wanted to get out and get in a few good miles. I took the pup with me, but before we made it very far, my sides started cramping up and feeling off…so I laid off and we walked home. I was certainly disappointed, but I didn't let it get me down for too long.
I headed out for a few lunch miles later in the day without any issues…so I am not quite sure what was going on that morning…
Friday
Scheduled : "cross training"
Actual : OFF
Saturday
Scheduled : 105 minute run
Actual : OFF
Sunday
Scheduled : "cross training"
Actual : 1.6 mile walk/crawl…
Since the weather warmed up a little, we (little man and myself) decided to meet up with some friends for a walk. The kiddos on scooters (didn't last very long for little man) and the moms walking and chatting. We made it around 0.6mile from home when little man was whining and crying about something that didn't go exactly as he wanted… So I ended our walking date and started our long trek back to the house.
Today was one of those emotional days that just didn't go well… It made me question myself as a mom and how I handle (or don't handle) tough public-tantrum- situations. I felt like I handled it well overall…but it had be emotionally exhausted the rest of the day…
Miles, miles, miles! Check out the weekly workout
recap via @livinglovingrun & other #linkups!
https://ctt.ec/A68Uc+ #bibchat #runchat
I am always late, but would have been linking up with Deb and Kim for the Weekly Run Down! Check out the posts and maybe I'll be on time next week 😉
How did your training week go?
What are you training for?
I'd love to hear from you! Leave a comment and start a conversation!
More Ways to connect with Lindsey from LivingLovingRunner :
Facebook Instagram Twitter Pinterest Bloglovin'