With the weather taking us for another chilly ride early this past week, I am hoping to get outside for some lunch run miles later in the week (hello 40 degrees!!)! I have some running events in my future and the treadmill isn't going to suffice…
I have some running plans for this spring and then in the fall…but we'll see what all gets accomplished. I am not in complete control of my body at this point – but here is what is on the calendar in 2019 :
Garmin Half Marathon (4/13/19) – I signed up for the half marathon and I plan to run intervals and see how everything is feeling
Bill Snyder Highway Half (5/25/19) – pace the 3:00 finishers; which I hope isn't too ambitious…we will see after Garmin
Hospital Hill (6/1/19) – I am planning on running the 10K as a BibRave Pro! Come and run with me, any distance really, and save with the discount code BIBRAVE19 – good for 10% off!
Kansas City Marathon (10/19/19) – I am planning on running/walking the half marathon as a BibRave Pro! Come and run with me, any distance really, and save with the discount code BIBRAVE2019KCM – good for 15% off (price increase 3/18!!)
While ALL of these PLANS are in my calendar, plans don't always go as planned… I have high hopes that this pregnancy will allow me to run to my heart (and legs) content! Let's see how this week went!
weekly workouts : week 6
Monday
Scheduled : 45 minute run
Actual : T20 Balanced — I am finally DONE with T20!! I am not quite sure I earned that last sticker…but I finished the program, so I deserve the darn sticker! Little man was so excited that I put another sticker on my step…I think I am going to wake up one day with his sticker book of stickers all over that beast… No picture from the "fun", haha!

Tuesday
Scheduled : no plan
Actual : Turbo Fire (starting) — Somehow, I woke up with my alarm (magic!). So I set out to find a workout program that I saw a fellow prego-momma doing online the day before. It is called Turbo Fire — and even though I couldn't find a "set plan" for the program right away, I wanted to get started! I had a fun time, great calorie burn, and I look forward to mastering some of the sequences!
Wednesday
Scheduled : 45 minute run
Actual : Turbo Fire (HIIT 20 Low) — It's day 2 of feeling good, waking up early! Trend?? We shall see…I am good at jinxing the morning workouts after a few days. Either way, I didn't get up with QUITE as much time, so I picked out a 20 minute workout…and it felt great! An added bonus for the day? The temps will get into the 40s!! So I feel an afternoon run coming on!! Maybe…
Thursday
Scheduled : "cross training"
Actual : 4 miles — A beautiful day for a run!! That is all!
Friday
Scheduled : no plan
Actual : 3.35 miles –With less sun, I wasn't as convinced that I would be able to get out for a run, but I made it happen! Yeah!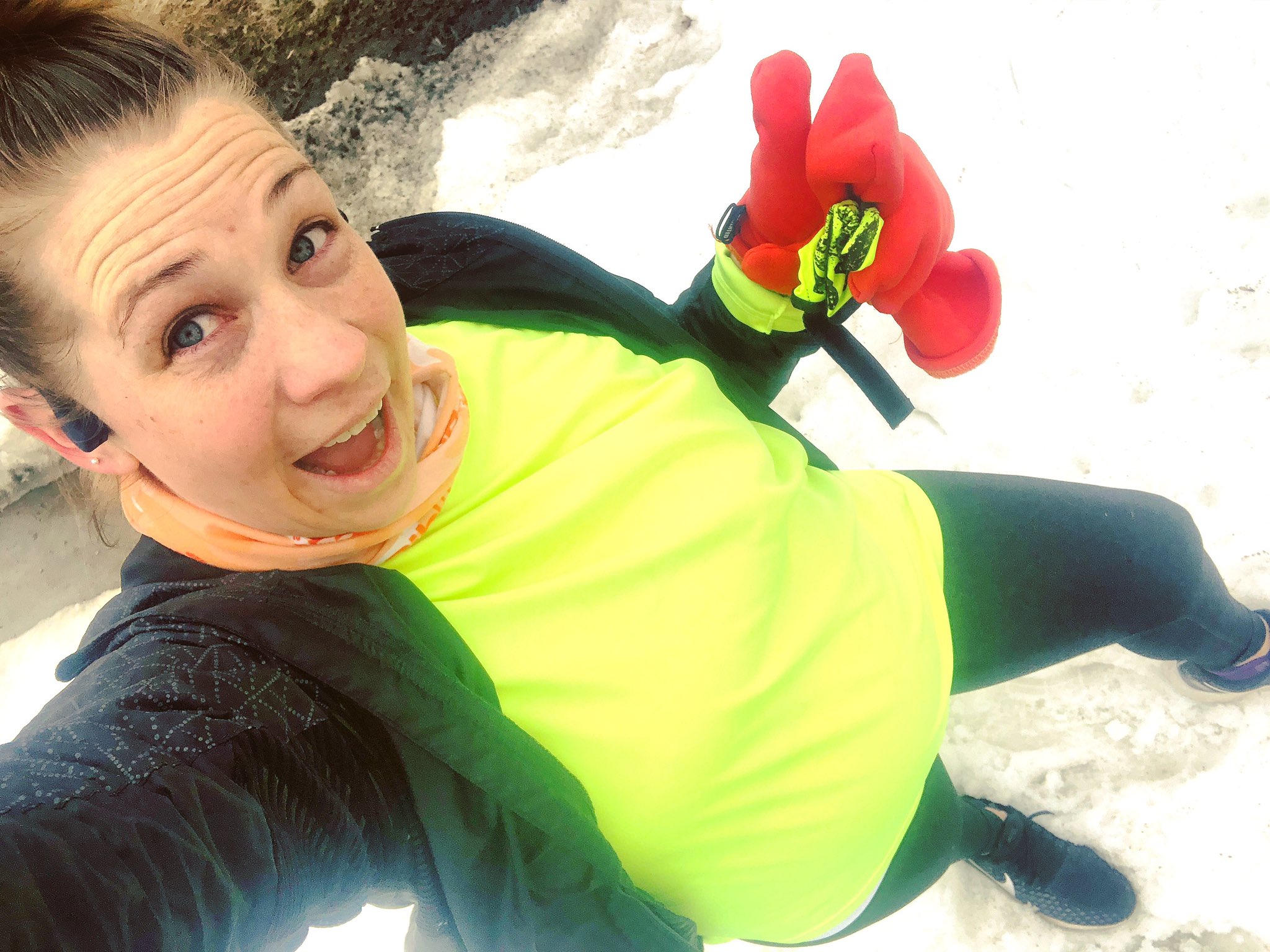 Saturday
Scheduled : 90 minute run
Actual : standing around and walking for 12 hours
The weather didn't want to shape up early…so I didn't get in a workout or run. But I did volunteer at a local children's consignment sale ALL DAY — 8:30am to 8:30pm. Made a couple bucks, got little man a couple things, got the baby a couple things — good day overall!
Sunday
Scheduled : no plan
Actual : OFF — taking some major downtime today after yesterday's "on feet" all day. I took 2 little naps and took our kitty's glucose levels every 1-2 hours throughout the day…
Tomorrow is another day and with the daylight savings time change, I am not excited for what the morning will bring…
Miles, miles, miles! Check out the weekly workout
recap via @livinglovingrun & other #linkups!
https://ctt.ec/A68Uc+ #bibchat #runchat
Check out these awesome run-spiring linkups this week :
Weekly Run Down Tuesday's on the Run
Wild Workout Wednesday Running Coach's Corner
How did your training week go?
What are you training for?
I'd love to hear from you! Leave a comment and start a conversation!
More Ways to connect with Lindsey from LivingLovingRunner :
Facebook Instagram Twitter Pinterest Bloglovin'