Disclaimer : This post is sponsored by Smile Brilliant. I received a Smile Brilliant Teeth Whitening Tray system in the mail in exchange for my review – all thoughts and opinions are my own. I was not further compensated for my review.
As you have read on the blog, I am a coffee lover and drinker… This is great for my mind and spirit, but not so great on my teeth!
I have not always been concerned with the whiteness of my teeth because anytime I would try and whiten them, they would become super sensitive! No one likes that!
Smile Brilliant is a little different! They have a desensitizing gel that diminishes tooth sensitivity, replenishes teeth, and prevents staining. When I read this, I was ready to give them a try! There are a few easy steps to get started!
Step one – take the plunge!
The first step is placing your order! Check out the Smile Brilliant Teeth Whitening Trays online and decide how many treatments you need and get your system ordered!
Step two – Check the box and see what came!
I received a box from Smile Brilliant a couple days after the tracking was sent. I made my molds the following morning.
The kit includes instructions, 2 molds, 3 base/catalyst containers to make the molds, a paid envelope to return the molds, 4 syringes of the desensitizing gel and 4 syringes of the whitening gel.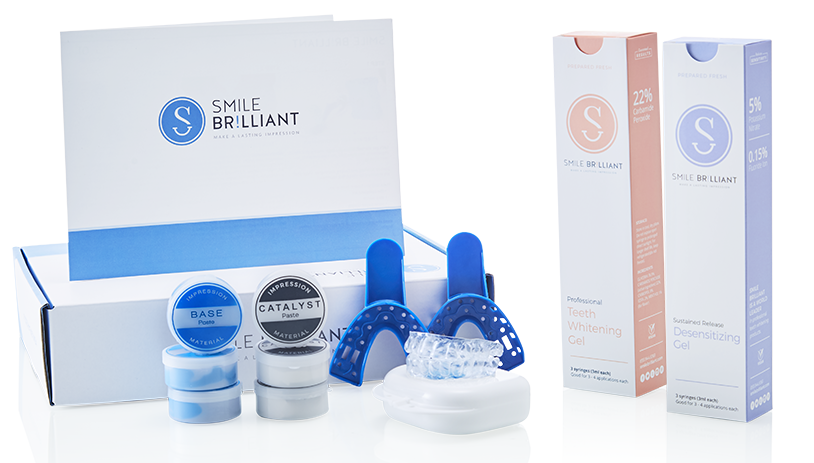 Step three – create custom molds
I was hesitant about this part of the process because I had flashbacks to when I got my braces… (the huge trays that made me gag for the minutes I had to keep it in my mouth)…
This process was way easier than my brain made it out to be. I mixed up the BASE and CATALYS  materials until there wasn't any more white – the impression material was all blue. 
Yes, I messed up the first mold…so I used all 3 BASE/CATALYS containers, but that is why the extra material is available. 🙂 Once the molds were set up and dry, I rinsed them off, dried them and prepped them for shipping!
The prepaid envelope was nice – I was sure to fill out the card and then they were on their way!
Step four – use the system!
After a little time, I received my custom molds in the mail and I was ready to start my whitening system!
If you are like me and have sensitive teeth, you will really want to use the desensitizing gel. The first time I used the trays, I didn't read well enough and I almost used the desensitizing gel before using the whitening gel… I knew that it is recommended to use the desensitizing gel "before bed", but I just thought that I would use the whitening gel in the morning… Wrong. 
After re-reading the materials, I then realized that I needed to brush my teeth, use the whitening gel (for 30 minutes to a few hours – depending on your sensitivity), brush your teeth after, then use the desensitizing gel for 20-30 minutes before heading to bed… So, that first night lasted a little longer than I anticipated, but the routine was easy to get into!
I have been able to put my trays in after dinner and go on about my evening. Playing with my little man, reading books, watching TV, telling the hubs about my day, using face masks (above), etc. The trays didn't inhibit any changes in my evening routine, other than not eating after I start the process (which I am TOTALLY okay with…)!
Step five – see the results!
I have tried several different whitening treatments in the past – from gels, toothpastes, strips, etc. In my mind, this system was the best whitening system by far! I didn't have to deal with the sensitivity that I usually exhibited after using other whitening systems. 
I have used the trays for a few weeks now, and the results are pretty great! I didn't stop drinking tea or coffee…or my results may have been better!
When I received the kit, I was a little concerned that there were only 4 syringes of both of the gels…but I have found that a syringe lasts a week or more for both top and bottom trays! The amount of uses has been great and I will be able to use them for a few more weeks. 
You can see that my teeth are quite a bit whiter than where I started! I am very happy with the results from the Smile Brilliant Teeth Whitening Trays and would recommend them to anyone who has had issues with sensitivity issues when it comes to teeth whitening systems. You can see other results on the Smile Brilliant's results page!
Giveaway!!
So here is the exciting part, you could win your very own Teeth Whitening Trays kit! The prize is worth $139.90 store credit which is equal to receiving the Teeth Whitening Trays + 3 whitening gel syringes and 3 desensitizing gel syringes.
All you have to do is enter HERE and the winner will be announced in 2 weeks!
You can also use the code LLRUNNER to receive 5% your order off for an entire year!
Tweet: Start the New Year with a BRIGHTER smile! Check out @livinglovingrun review & #GIVEAWAY of a @SBwhitening system! http://ctt.ec/5yE9R+