Disclaimer: I received Detach Coconut+ to review as part of being a BibRave Pro. Learn more about becoming a BibRave Pro (ambassador), and check out BibRave.com to review find and write race reviews!
Water.
H20.
Aqua.
While we cannot hydrate by water alone, it sure does hit the spot while on the run!
---
Through the years, I have found that my morning routine works best if I just get dressed, lace up, and hit the road/trail/treadmill. Yep, no morning fuel other than a little water to start my day.
Race mornings are a little different and I add in some coffee and a banana to jump start my engine. But why don't I do this everyday? Mostly, I am just lazy…and I don't have the time for it!
Recently I was introduced to Detach Coconut+ Water as a BibRave Pro. I was intrigued to try a hydration beverage intended to be used before and during activity. Once in a while, I will drink a coconut water based beverage during the day, but never before my workout…
But I am always ready and willing to try something new (but not on race day…most of the time)!
Detach
It's funny how many companies start out of a personal necessity. Detach is no different!
What started as a want for a healthy drink to stay hydrated, focused and strong during long workouts transformed into 3 years of work to perfect a recipe for a great tasting pre/mid-workout beverage. At the time, the Detach founders thought that coconut water was the best drink for the job – it is great for hydration – but not everyone enjoys the taste or consistency. After 3 years of recipe testing, the couple came up with Detach Coconut+ Ellie-Ade (namesake of the husband/wife duo – Ellen). After all, she was the one in need of the hydrating elixir!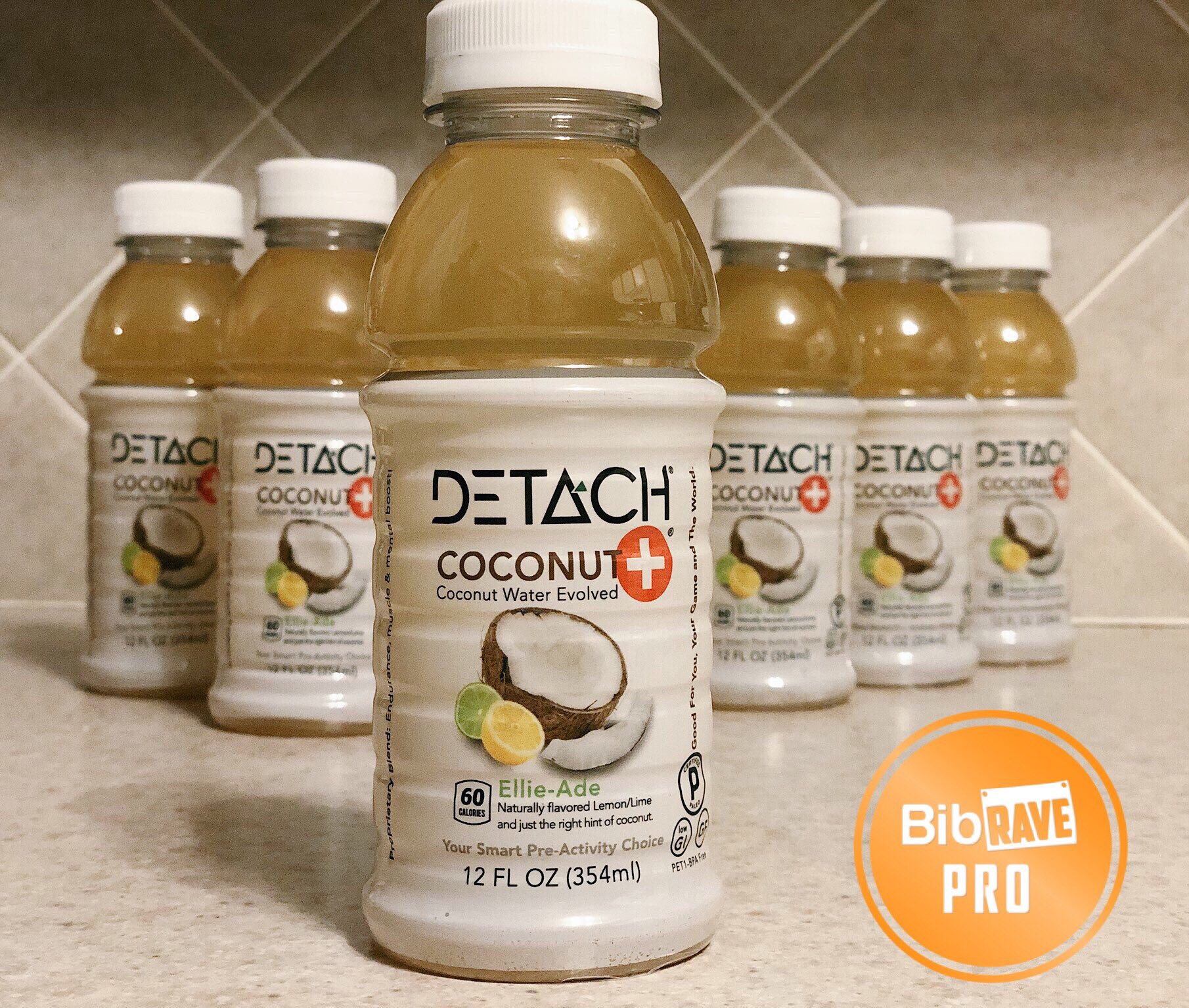 Coconut+ 
Detach Coconut+ is a coconut water based drink with a light citrus flavor to enjoy before and during your workouts. There are several additions to this drink that makes it better than your typical coconut water :
added sea salt (electrolyte) – helps with hydration
coconut nectar + wildflower honey – for a low-glycemic energy boost
proprietary blend of micro-proteins – to give you some "heat" in your workoutbeta-alanine – improve the muscles energy production

citrulline – helps open your blood vessels and improve blood flow
theanine – impacts feelings of focus (similar to white/green tea)
All together, the Detach Coconut+ Ellie-Ade is a tasty drink to help you reach your fullest potential in your workout! With merely 60 calorie per bottle, you are going to love the light citrus taste and reap the benefits of hydration, focus, and strength at the gym or on the go. 
My Experience
Through my testing of Detach Coconut+, I incorporated the drink into several different parts of my day. The instructions are to take 1 bottle 30 minutes before your workout and 1 bottle during – but it can also be mixed with other drinks as well!
Pre-workout + During exercise
As I mentioned before, I am not a "eat before I run" type of person…but if I get out for a mid-day trail run, I usually have something to eat within a couple hours of my excursion. In fact, the first time I tried Detach Coconut+ was before my afternoon run. Per the directions, I drank 1 bottle about 30 minutes before heading out and then I packed one with me on the run. The taste was light and crisp – and tasted refreshing while on my run. With it being a warmer winter day (Mother Nature is cray cray…), I probably should have taken just a little more water, but my energy level stayed high!
Luckily, on my second day of testing Detach Coconut+ I was able to drag myself out of bed a little earlier than usual and drink a bottle before my morning run! Timing is everything – and then I also packed one away in my hydration pack. While this run was a little longer and I felt the need to pack my usual liquid fuel, alternating between the Coconut+ and other fuel was a good way to break up the miles.
Post Workout
After most of my longer runs, I will make up a protein smoothie/shake with protein powder, collagen, water, and other "flavor" ingredients. This time, I was able to make a pretty tasty post-run smoothie with Detach Coconut+, vanilla protein powder, collagen, and about a cup of frozen mango. The mango and vanilla took over the taste of the smoothie and I barely notice the coconut/citrus flavor – certainly a combination that I will try making again!
Afternoon Pick-Me-Up
My last testing application of Detach Coconut+ was during an afternoon slump… Rather than reaching for the vending machine soda (yes, once in a while…), I opted for the light, crisp Ellie-Ade. The micro-proteins gave me a bit of a boost to help me push through the rest of my workday without keeping me up that night (like a caffeinated beverage does). Win!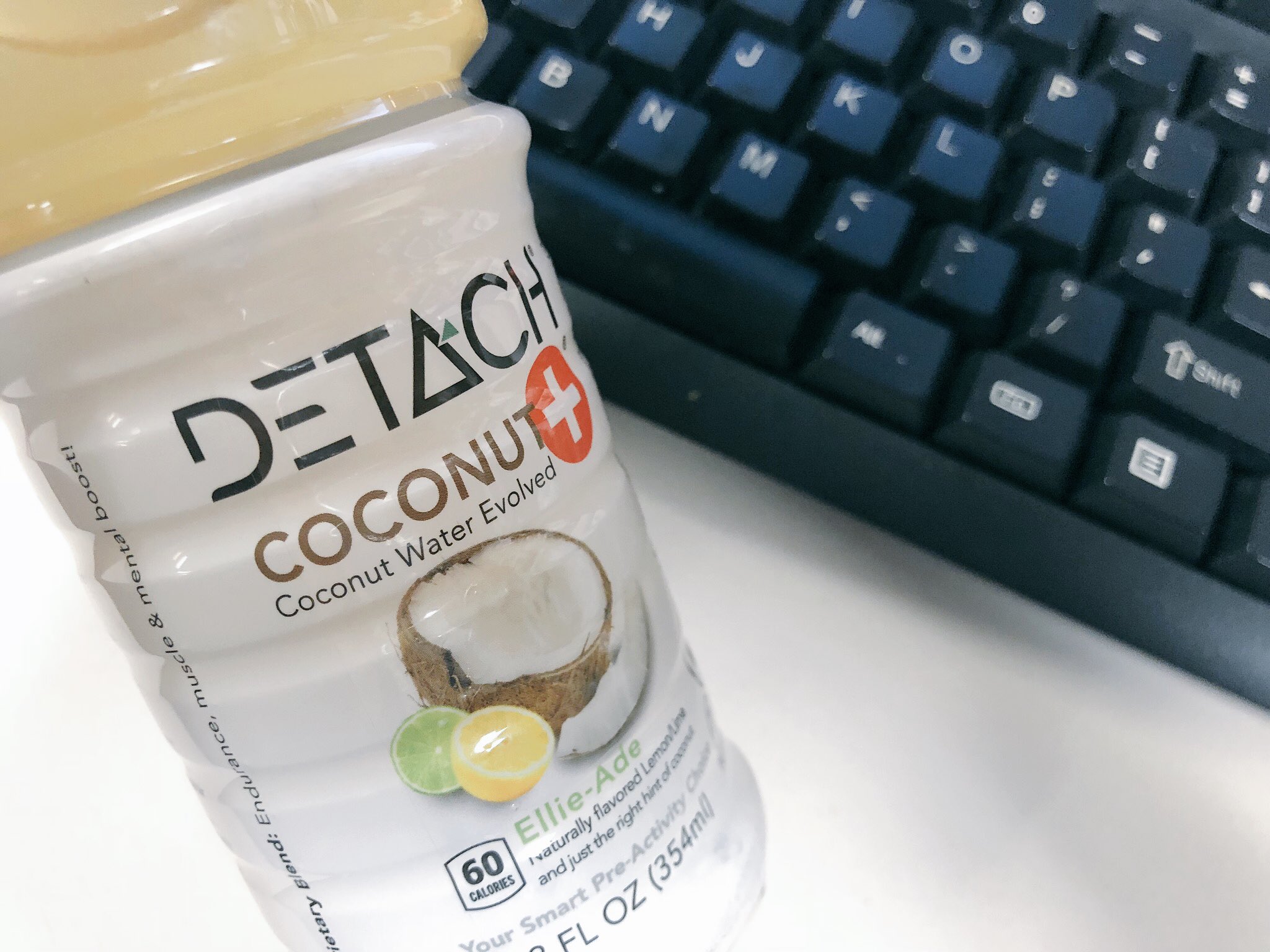 Overall, I am very happy with my decision to try Detach Coconut+! Enough so that I ordered an additional case online!

While I don't have a discount code to send you to use, there are a couple ways to get a discount online. Go to the Detach Community website and subscribe to their community! You can get a $10 off your first case of Detach – this is how I ordered my first case. Also, you can get a discount on Amazon if you "subscribe and save"! Every little bit of savings counts when it comes to running things : )
My fellow BibRave Pro's also tried Detach. Check out their reviews as well! 
Janelle   Aurora   Corey   Zenaida   Meredith   Kevin   Henry
Melissa   Amy   Logan   Jeremy   Fallon   Mark   Dane   Amy   
Check out Detach on their social handles for fun promotions and to get the scoop on new products : Facebook    Twitter    Google+     Pinterest    Instagram
As always, check out these awesome run-spiring linkups this week :
Tuesday's on the Run     Wild Workout Wednesday     Running Coach's Corner
I'd love to hear from you! Leave a comment and start a conversation!
More Ways to connect with Lindsey from LivingLovingRunner :
Facebook > @livinglovingrunner
Instagram > @livinglovingrunner
Twitter > @livinglovingrun
Pinterest > @livinglovingrun
Bloglovin' > @livinglovingrunner