Disclaimer: I received the following products at the inaugural TRE Influencer Day to review as part of being a BibRave Pro. Learn more about becoming a BibRave Pro (ambassador), and check out BibRave.com to review find and write race reviews!
Are you ready for a new year to start?! I am looking forward to some major changes in 2019 – and running miles and miles is something I look forward to! I have had the opportunity to try some new-to-me gear companies thanks to attending TRE!
I recently attended the inaugural TRE Influencer Day as a BibRave Pro. What is TRE you ask? TRE is a massive 3-day conference where all running-related brands, retail stores, and events come together to reveal and explore the latest trends and developments in the running industry! A limited access opportunity for brands introduce their latest and greatest products (cutting edge shoe tech, new apparel, new hydration, innovative electronics, new brands – everything!)!
As a BibRave Pro, we received an amazing swag bag of gear for being a part of the event. This is the last review post of products! You can check out my previous posts below :
This post contains the remaining products I received in the ultimate swag bag! Check it out!
CEP Compression
I have worn compression socks and sleeves for years – but I don't think I have been fully informed about compression technology until TRE thanks to the rep at CEP Compression. Using "graduated compression", CEP compression socks provide ankle and joint stabilization to help prevent injuries. 
This compression technology also provides for increased venous return – which just means your blood can recharge and recirculate through the body. The high-tech synthetic fibers of CEP Compression are moisture wicking which keeps your feet dry and reduce the odor causing bacteria – amazing!!
One thing I love about CEP Compression socks (other than the amazing colors that go with any outfit!) is how EASY they are to put on! I feel like we have all TRIED to put on a tight pair of compression socks or sleeves with some struggling…but not with these! Give them a try!
Incrediwear Recovery Capris
I posted about the incredible Incrediwear socks the other day – but they spoiled us even now with Recovery Capris. The versatile capris can be worn before, during and after working out – and even overnight! The 4-way stretch is breathable and thermoregulating for a comfortable experience.
The Incrediwear line of socks, pants, and other recovery products are made from a signature blend of "semiconductor elements". From talking to the reps at TRE, these elements do not require compression to aid in the recovery of many everyday ailments. Rather, the release of negative ions activate increased blood flow; increasing circulation and helps bring more oxygen and nutrients to the targeted area.
Incrediwear gear can effectively accelerate in the recovery from shin splints, runners knee, calf cramps, DOMS, sprains, and strains.
Handful Squeeze Play Legging & Y-Back Bra
When you find the most comfortable legging and bra, you are set for life! This is certainly how I feel about wearing the Handful Squeeze Play Legging and Y-Back Bra!
First, the Squeeze Play Legging is one of the most comfortable leggings I have owned! The high waist is flattering and the rushing on the back is both super cute and makes my bum look good… The lightweight stretch of the pants makes me feel like I can do anything – run a mile or 50 miles or just lazy around on a Saturday.
The Handful Y-Back Bra is another must-have piece of gear that just feels like……like a hug! The material is so soft and supple with flatlock seams (goodbye chaffing!) and removable Lights Out™ pads. Get it?! Lights Out™ – so amazing!!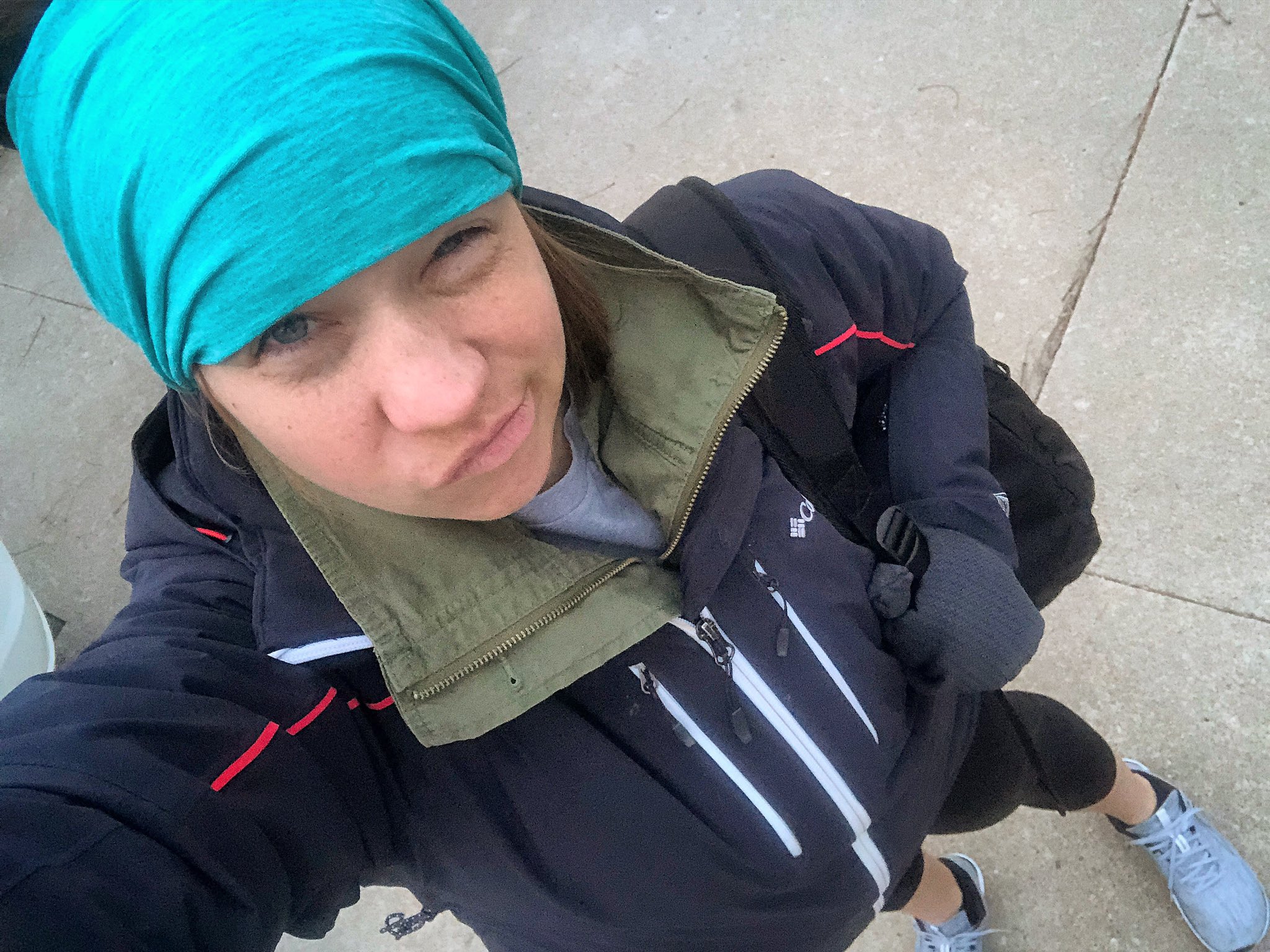 Both the Handful Squeeze Play Legging and Y-Back Bra are amazing pieces for both fashion and fitness. The amazing colors of the Handful Bra's pair amazing with the leggings – you are bound to be inspired!
Brooks LSD Jacket
What is one piece of gear you can't live without? For me, it's ANYTHING reflective.
The Brooks LSD Jacket is one of the greatest jackets I have ever owned. Lightweight. Windproof. Rain-resistant. Packable. RETROREFLECTIVE.
Even in the cold, I am able to layer up and be completely seen with the amazing reflective elements on the outside of this jacket! It is really amazing how bright it is!
My biggest pet peeve is that this jacket doesn't have any pockets (other than the packable pocket)… The men's version of this jacket has a pockets AND a hood – I just want pockets 😉 Other than my pocket preference, this jacket is pretty awesome!
Vuori OMNI Performance Shorts
I love the lightweight, soft-feel of the Vuori OMNI Performance shorts and the bikini liner fits great! The 4-way stretch allows for movement and the back-zip pocket is great for your key or cards. Another great feature of these shorts is the "V4 Technology" – anti-odor, moisture wicking, quick dry, and UPF 50!
Bring on the miles!
Honesty time, I have THIGHS. For the Vuori OMNI, I probably need at least a size bigger for them…I usually wear a medium, and I would love to be able to try a large. I also prefer at least a 4-5" inseam length on my shorts for more coverage and less leg chafing – so I am excited for the new longer length styles Vuori is coming out with in 2019!
---
I was in a group of 20 BibRave Pro ambassadors in the TRE Influencer Program. Be sure to check back on their blogs to check out their reviews of these products!
Jenna Kim Vanessa Jenn Nicole Ryan Angie Brenda Casey Mai Corey Mark Jessica Meridith Amy Erica Tedrick Chris Gina
As always, check out these awesome run-spiring linkups this week :
Tuesday's on the Run Wild Workout Wednesday Running Coach's Corner
I'd love to hear from you! Leave a comment and start a conversation!
More Ways to connect with Lindsey from LivingLovingRunner :
Facebook Instagram Twitter Pinterest Bloglovin'