Disclaimer: I received free entry to Hospital Hill races and also received an Endure Strong training program as part of being a BibRave Pro. Learn more about becoming a BibRave Pro (ambassador), and check out BibRave.com to review find and write race reviews!
Delayed post…my bad. I noticed it in my drafts folder — so this is going to be a multi-post kind of week!
---
pre-week thoughts : Looking ahead at my week, I am a little intimidated… The easy miles are easy to enjoy, but the speedwork looks intense. I am not sure how it will work out!
post-week reflections : well…that was fun!
Overall, I am really enjoying the Endure Strong training plan! One of my favorite pieces of the plan is the coaching calls (and back-logged calls).
Every other week, Jared Ward (yes, THE man himself) hops online to chat with us about various topics and the calls are super engaging and fun to be a part of! It's great to hear that elite athletes aren't all that much different than us "everyday" people…we all have busy lives and have to fit in running where we can! And boy are we busy these days…
I have some running plans for this spring and then in the fall…but we'll see what all gets accomplished. I am not in complete control at this point – but here is what is on the calendar to this point :
Garmin Half Marathon (4/13/19) CHECK!
Bill Snyder Highway Half (5/25/19) – sweep pace the 3:00+ finishers to the stadium!
Hospital Hill Run (6/1/19) – run with me, any distance really, and save with the discount code BIBRAVE19 – good for 10% off!
Kansas City Marathon (10/20/19) – run with me, any distance really, and save with the discount code BIBRAVE2019KCM – good for 15% off!
While ALL of these plans are in my calendar, I have high hopes that this pregnancy will allow me to run to my heart (and legs) content! Let's see how this week went!
spring training | new plan w4
Monday
Scheduled : 3 miles easy
Actual : 3 "easy" miles — I had wanted to get up and take the pup for a run, but GOT won my Sunday night and I don't sleep all that well, generally every night. Before long, I will NEED to embrace full-zombie mode, but for today, I opted for some lunch miles — which ended up being toasty!
Tuesday
Scheduled : 4x1mi @ 10K pace (minus 5 seconds); 4min rest
Actual : scheduled workout (see above) — 5.5 miles total
I couldn't have been happier that my running buddy Ang text me this morning…I didn't realize I had already snoozed my alarms 2-3 times — so her nudge was just what I needed to get up and out. We ran my Endure Strong interval workout for 3 of the intervals and the pup came out with me for the last interval and cool-down — run done and ready to start the day!
Wednesday
Scheduled : 3 miles easy
Actual : 3.5 morning miles — Another great morning for some miles! The pup came with Ang and I for the full run…and she was ready to roll in the cool, damp grass when we got home…ha!
Thursday
Scheduled : 2x1200m & 800m; 1200m @ 5K, 800m @5-10sec faster; 60sec rest between
Actual : 1 mile warm up; 3 miles of intervals (as listed above); 1 mile cool down with the pup
Thank goodness for running buddies! I didn't snooze my alarm at all…even though I didn't REALLY want to get out of bed. I knew Ang would be waiting for me! And after the last interval, I knew the pup would need a little "get out" time…so we walked our mile 🙂
Friday
Scheduled : 3 miles easy
Actual : 0.62 mile morning walk + 1 mile evening walk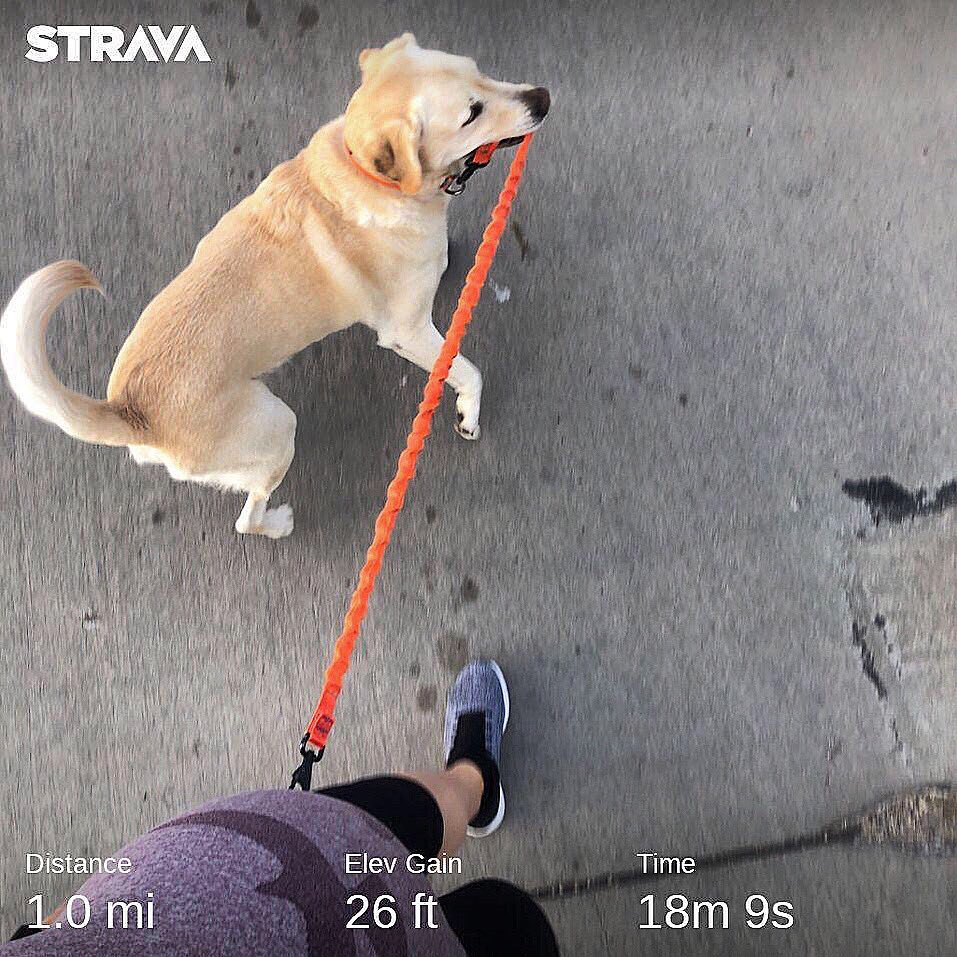 Saturday
Scheduled : 10K long run
Actual : 4.6 mile run — Our "long run" was cut a little short due to thunderstorms rolling in sooner than expected…so we got in what we could!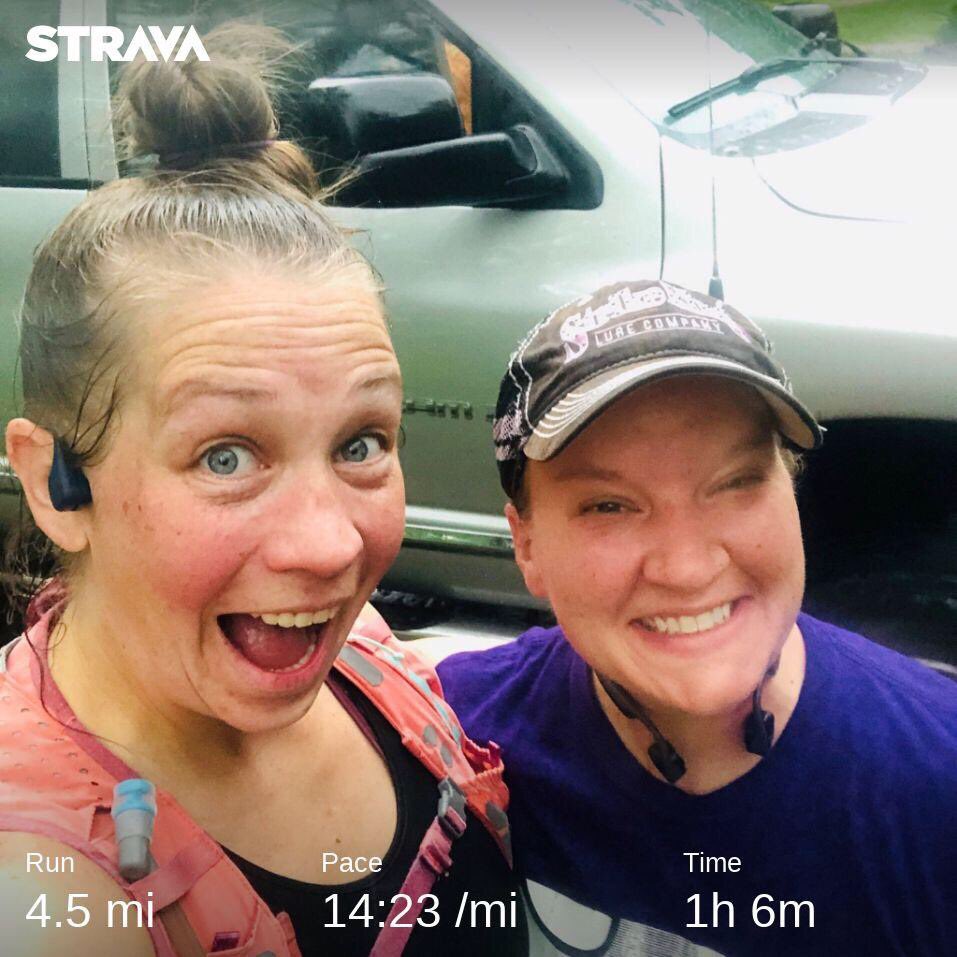 Sunday
Scheduled : "rest" day
Actual : 1 mile evening walk — With the hubs participating in a 50m cycling event starting at 8am, my volunteering duties at the event started at 6:45am. No morning mile, but I somehow talked the hubs into walking the 0.5m out and back at roughly 9pm…ha! I have had less complaining from my 5yr old walking a mile than with him…
Miles, miles, miles! Check out the weekly workout
recap via @livinglovingrun & other #linkups!
https://ctt.ec/A68Uc+ #bibchat #runchat
How did your training week go?
What are you training for?
I'd love to hear from you! Leave a comment and start a conversation!
More Ways to connect with Lindsey from LivingLovingRunner :
Facebook Instagram Twitter Pinterest Bloglovin'